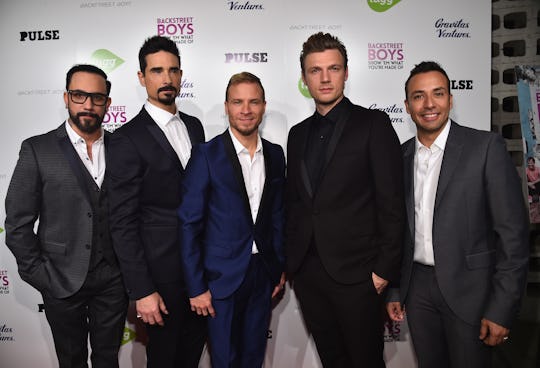 Alberto E. Rodriguez/Getty Images Entertainment/Getty Images
Are The Backstreet Boys Still Together? They Star In A SyFy Zombie Movie With Other Boy Band Members
The night has finally come. Tonight, members of your favorite 90's and early 2000's boy bands will finally come together in one place that isn't the TRL stage. The various members of various boy bands will be starring in a western zombie film, Dead 7, on the SyFy network — and no, this is definitely not an April Fools joke. The film features members from various boy bands, such as O-Town and 98 Degrees, and is written by Backstreet Boy member, Nick Carter. Which leads me to ask the question, are the Backstreet Boys still together?
Carter, who wrote and produced the script of Dead 7, was able to recruit a lot of your favorite former band members. *NSYNC members Joey Fatone and Chris Kirkpatrick are a part of the cast including Jeff Timmons from 98 Degrees in addition to all of the members of O-Town (remember O-Town?) excluding Ashley Parker Angel.
AJ McLean and Howie Dorough are the only members of the Backstreet Boys to be in the film. But what about the rest? Are they still together?
The answer is YES — and can you tell how happy I am because of it? All of the members — Nick Carter, AJ McLean, Kevin Richardson, Brian Littrell and Howie Dorough — have technically never broken up, even in spite of the time when Richardson left the group in 2006.
The group continued to tour and make music without Richardson, recording the album "This Is Us" in 2009 and forming the "world's biggest boy band supergroup" with New Kids On The Block in 2011. Richardson reunited with the group in 2012 in honor of the Backstreet Boy's 20th anniversary in 2013.
The group, including Richardson recorded their first album since the temporary split, "In A World Like This," in 2013 and subsequently went on tour for the album for the first time as a full group since the early 2000's.
The making of the album and the reuniting of all of the Backstreet Boys was highlighted in the group's documentary, Show 'Em What You're Made Of. The documentary paints a portrait of the group's rise to fame, their struggles and successes and the process of recording an album together for the first time in six years. The documentary got pretty decent reviews and is available to stream on Netflix (which I highly recommend).
This past October Carter hinted at teaming up with the Spice Girls for a world tour — talk about a throwback and an amazing concert — but the word about that has been quiet since then.
Until then, you can enjoy the knowing that the Back Street Boys are still together and will be on America's TV screens once again.