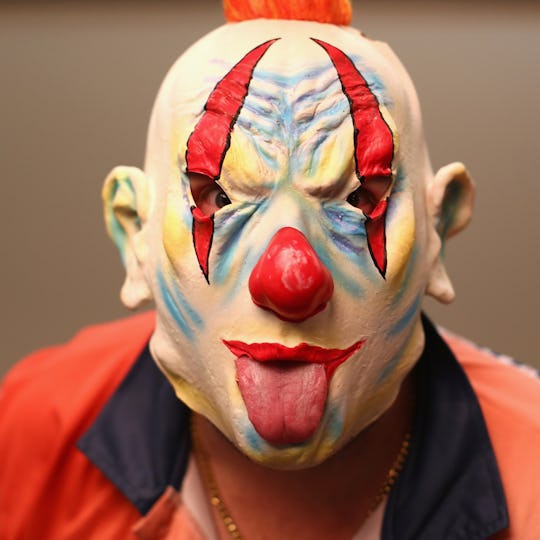 Mark Kolbe/Getty Images Sport/Getty Images
Are The Clowns Kids Are Reporting Real? It's Been A Bizarre Situation For Sure
In what has been a bizarre ongoing issue for the past several weeks, supposed creepy clown sightings in a number of states across the country have made their way to national conversation. If you haven't heard about the alleged clown sightings, in which clowns were apparently attempting to lure children into the words, then you may be in the minority here. Because these clown sightings reports have taken a life of their own. So, are the clowns kids are reporting real? It's been a cause for concern, but authorities found that number of clown-related reports were false.
The recent wave of clown sighting fears started back in August, when residents in Greenville, South Carolina, reported on suspicious clowns trying to lure children into the woods.
One mom, Donna Arnold, told local South Carolina Station WYFF 4 that her son felt scared after saying he saw clowns in the neighborhood. Later some 30 kids reportedly approached her with a similar story.
"At first, I thought he was telling a fib and I said, 'Go in the house and we'll talk about this again,' because I didn't want it all over the place," Arnold said. "And then the next day, there was like 30 kids that came up to me and said, 'Ms. Donna, Ms. Donna, there's clowns in the woods.' My child was with me, so I knew they had to see something. There was more than one kid that seen them, so I feel confident that he was telling the truth."
Following Arnold's report, more reports of clown sightings in Greenville followed. After police investigations, Ryan Flood, a spokesman for the Greenville County Sheriff's Office, told The Atlantic that police were unable to locate any clowns.
South Carolina isn't the only state that has had clown sighting reports. As the Associated Press reported, clown sightings have since been reported in states including, Georgia, Alabama, Maryland, and Pennsylvania. But false reports have also been uncovered since.
According to a report by The New York Times, 12 arrests connected to clown-related hoaxes have been made in a number of states. Last month, two people in Georgia were arrested for making false reports about clowns attempting to lure children into a van.
But still, as the clown sightings reports spread throughout the United States, the clown sighting panic simultaneously has spread throughout the web, and unsurprisingly, social media. There's even a Twitter account, @clownsighting, dedicated to sharing videos of apparent creepy clown sightings across the country.
Who's to say where the creepy clown reports and panic will go from here?
One thing's for sure: famed author, Stephen King, whose killer-clown novel IT will have a film remake, is not here for the creepy clown reports. (Despite theories that the clown sightings are a marketing ploy for the upcoming film.)