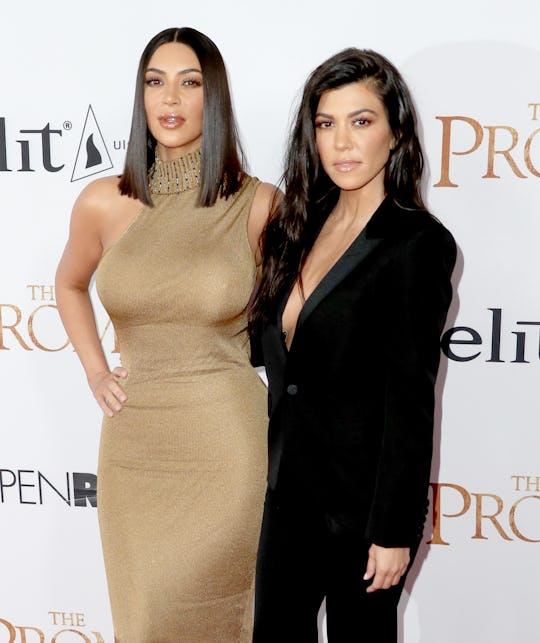 Frederick M. Brown/Getty Images Entertainment/Getty Images
Are The Kardashians Still Feuding After Their Major Blowout On Twitter?
The Kardashians: they're just like us! Just kidding, they're billionaires, but still — they fight just like every other family fights. Fans saw the trio get in a huge tiff in the first episode of Keeping Up With the Kardashians Season 15. But are the Kardashian sisters still feuding? A therapy session may not have been enough to fix their familial troubles.
It all started during the premiere of Season 15 of KUWTK. Kim and Kourtney got in a fight over their Christmas card when Kourtney asked Kim to reschedule a meeting so they could do the photoshoot earlier in the day. Kim was not pleased in the slightest, and went off: "I need Kourtney to not be so f*cking annoying with a stick up her ass like she f*cking runs this sh*t, because she doesn't ... She's the least exciting to look at."
Fighting about a Christmas card might be standard family fare, but cursing up a storm and saying your sister is "the least exciting to look at" is a bit much. Kourtney wanted the shoot earlier in the day so she could spend time with her kids (8-year-old Mason, 6-year-old Penelope, and 3-year-old Reign) in the evening. She broke down in tears over Kim's response, saying, "Kim saying that I'm the least interesting to look at — who even speaks like that? You don't say things like that. You guys just have really different values than me. I choose to be a mother to my three kids. I'm not here looking for another job. I already work enough — more than I would like to."
Unfortunately, the fight didn't stop their. The Kardashian sisters brought this feud to Twitter during the airing of the episode. Kourtney tweeted, "Watching this gave me chills" and, "It's not normal to relive this stuff."
Kourtney also tweeted that her priority is being a mother, thus implying that being a mother isn't a priority for Kim. Kim reacted right away, tweeting, "And mine is not? The shoot was with our kids!!!!! My #1 priority is being a mother as well and I can work too, so can you!" To this, Kourtney responded somewhat more softly, saying that she felt spread thin but believes Kim is an amazing mother.
The Twitter shade wasn't limited to Kim and Kourtney; Khloé got in on it, too, saying, "Do we want to get into why all of us were frustrated with you? You want to do this on twitter?" She then revealed that she knew how ridiculous fighting over Twitter was, writing: "OK I don't know what was crazier… The premiere of #KUWTK or the Twitter feud between my sisters and I ... are we fighting again?"
In the following episode, the sisters had a group therapy session that ended in tears. Kourtney hinted that she didn't want to do the show anymore, which really frustrated Kim and Khloé. I'd say on the show, the answer is yes: they are still fighting.
But now, months after that fight was first filmed, it looks like the sisters are back on track.
For example, Kim and Khloé dragged Kourtney's ex-boyfriend, Younes Bendjima, on Instagram just last week after their recent break-up — so they do have her back. Furthermore, it was just their little sister Kylie's 21st birthday party and they all celebrated together (Kim's Instagram caption cheekily said that Kourtney was included).
On Kourtney's Instagram from the party, Kylie joked in the comments, "Happy birthday. You're so interesting to look at," in reference to Kim's dig. So sure, the sisters may fight but what's really clear is that they all love each other for better or for worse.