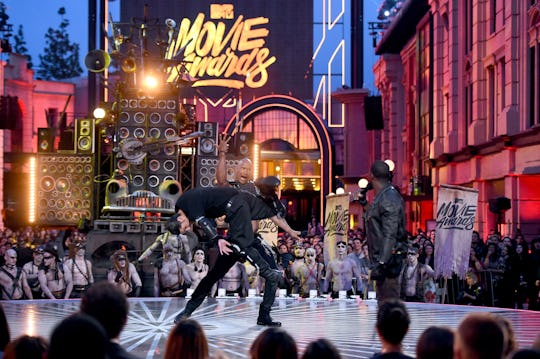 Kevin Winter/Getty Images Entertainment/Getty Images
Are The MTV Movie Awards Outside? It Certainly Looks That Way
MTV always tends to go big when it comes to their award shows, but this is the first time the MTV Movie Awards are outside. For the big show, Sunday's broadcast took over the Warner Brother's Studios in Los Angeles and celebs and viewers mingled on sets of New York City streets and fake apartment buildings. It was sort of the best place to hold a celebration of 2015's biggest movies.
For the producers, it was all about taking big risks in 2016. Casey Patterson, the show's executive producer, told Variety that "they wanted "to do a big, brave thing to celebrate movies." She added that the co-hosts, Dwayne Johnson and Kevin Hart, were the perfect men for the job. "We could not be in better hands than with these two guys because they really represent what it means to be a movie star right now," she said. "They talk directly to their fans all the time. They are always in a conversation with their fans," Patterson added.
The backlot of Warner Brother's studios seemed like the perfect place for the duo connect with those fans and get crazy with the other stars for the award ceremony on Sunday. More than just an excuse to give Johnson and Hart a chance to show oiff, but the outdoor space also allowed for more fans and non-celebs to attend the taping. For a show (and a network) that brands itself as being for the people, making sure viewers could attend live was a nice touch. Viewers were otherwise pretty impressed with the decision. One fan tweeted, practically, "I've never seen an awards show that was held outside. Seems like a pretty cool idea when weather permits." Other viewers just couldn't get into it. One tweeted that it was "weird," another simply that they straight up "didn't like it."
Some viewers were worried that the attendees wouldn't get a seat for the whole night, as many shots of the crowd made it seem like they were going to stand the whole time. Luckily, once the opening and first awards were handed out, the celebs got to sit down. Acting is one thing, but standing for two hours of awards and acceptance speeches is asking just too much. Overall, the outside setting was a welcome deviation from the norm. There's only one remaining mystery about the venue — where did everyone go to the restroom?