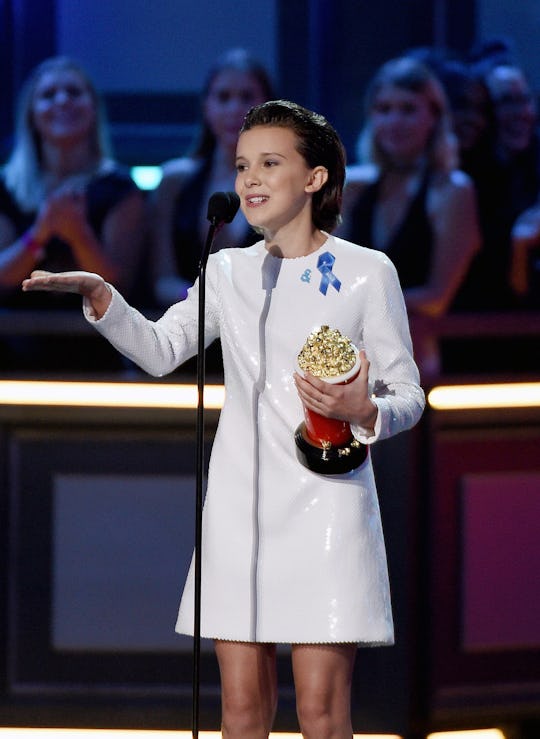 Kevork Djansezian/Getty Images Entertainment/Getty Images
The MTV Movie & TV Awards Underwent A Lot Of Changes — Here's What You Need To Know
If you haven't enjoyed a moment of feeling old lately, allow me to help you out: the MTV Movie Awards is celebrating its 27th annual broadcast this year and, by the way, it's not even called the MTV Movie Awards anymore. As of 2017, the show added TV categories to the mix, so the awards are now known as the MTV Movie & TV Awards. And, to accommodate Emmy voting, which opened on June 11th, MTV moved the telecast from its traditional slot in May to June 18. But are the MTV Movie & TV Awards live? The awards show will are at 9pm ET on Monday, June 18 -- but no, they won't be live.
In previous years, the MTV Movie Awards traditionally aired in May to usher in the kickoff of summer blockbuster season. While celebrating films of the past year, MTV relied heavily on exclusive trailer premieres for some of the upcoming year's most anticipated films to lure in an audience and boost its ratings. But since TV has become such a big part of the show, MTV decided to bump the awards to June to capitalize on the early Emmys voting buzz. This year, Stranger Things leads the TV pack with six nominations, including nods in the two big categories, Best Show and Best On-Screen Team.
Meanwhile, on the movie side, Black Panther leads with a whopping seven nominations. The film earned nods in Best Movie and Best On-Screen Team, while its star Chadwick Boseman is nominated for Best Performance in a Movie and Best Hero. Letitia Wright snagged a nom in the Scene Stealer category, and Michael B. Jordan has, of course, been nominated for Best Villain.
As you may recall, in recent years, the MTV Movie & TV Awards made a historic pivot away from gendered categories for its stars. Gone are the days of "Best Actor" and "Best Actress," making space for a slew of up-and-coming nonbinary stars. In fact, Asia Kate Dillon, the nonbinary performer who currently stars as primetime's first ever nonbinary character Taylor Mason on Showtime's Billions, presented the first gender-inclusive Best Actor in a Movie award last year to Emma Watson, who won for her performance in the live-action Beauty & The Beast. The symbolic move was a way of paying homage to Dillon, who last year wrote a letter asking the Television Academy what category they should submit for and questioning gender in Emmy categories overall. The Academy responded that members have always been able to submit for whichever category they felt best represented them, so Asia submitted for the non-gendered Supporting Actor category.
Dillon didn't wind up earning a nomination, but they've submitted themselves to the category again this year, and their work on Billions continues to shatter expectations.
As for the MTV Movie & TV Awards, it's pivoted to even more inclusive language this year. Instead of naming the category "Best Actor" and including people of all genders in that category, MTV has opted to name it "Best Performance," doing away with gendered language altogether. It's a subtle shift, but one that makes all the difference in an attempt to decenter male-coded language as the default.
Tiffany Haddish, breakout star of last summer's hit comedy Girls Trip, will host this year's MTV Movie & TV Awards in yet another nod to marginalized trailblazers. According to Complex, Girls Trip is the only film in history written, produced, directed by and starring black people to crack $100 million at the box office. It's sort of wild that a casual awards show aimed at young people is actually setting a better example in Hollywood than the prestigious Emmys and Oscars, but hopefully, a massive cultural shift is on the horizon.
A previous version of this story inaccurately explained Asia Kate Dillon's interaction with the Television Academy. It has been updated to accurately reflect their interaction.