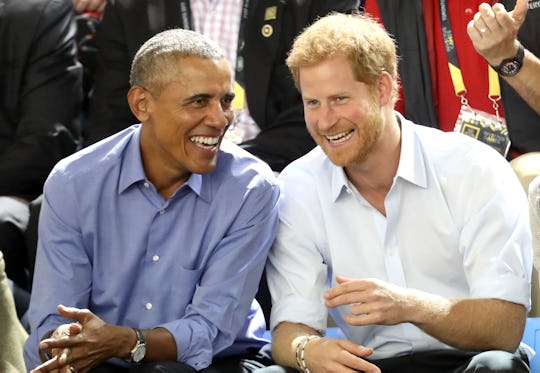 Chris Jackson/Getty Images Entertainment/Getty Images
Here's Why You're Not Going To See The Obamas At The Royal Wedding
Prince Harry and former President Barack Obama have a friendship that appears to extend well beyond an official relationship of that of a United States President and prince of the royal family. Note their chumminess as they watched the Invictus Games, which Prince Harry created, or listen to Prince Harry interview Obama for the BBC after Obama left office, and you will see that they have a friendship that is totally wedding guest-worthy. But even with all of that, are Barack and Michelle Obama at the royal wedding?
Unfortunately, the Obamas did not attend the royal wedding, which means fans didn't get to fawn over Michelle's outfit. Think about it this way: Let's say you're planning your wedding and you want to invite Cousin X, who you are actually really good friends with. But if you invite Cousin X, then you need to invite Cousins A, B, C, and D, or you risk really upsetting your grandparents. You're not very close to Cousins A-D, and Cousin D is a bit of an attention hog, TBH. It's very possible he's going to do something so ridiculous, the whole focus of attention will shift to him instead of to you. In this case, sometimes its easier not to invite any of them, even if you really actually do want cousin X there. (And yes, Cousin X is Obama, Cousin D is Donald Trump, and Cousins A, B, and C are the leaders of other countries).
When Meghan and Prince Harry first got engaged there was a lot of buzz about whether or not they would invite the Obamas. The rumors were that Meghan and Prince Harry wanted to invite them because they were actual friends and not just political acquaintances. This, of course, set off the quiet and not-so-quiet whispers that Trump would be furious at the exclusion, even though Kensington Palace announced that they would not be inviting political leaders to the royal wedding, according to CNN. There is precedent for not inviting the sitting U.S. president as when Prince William and Duchess Kate were married in 2011. The Obamas were not invited out of concern for all of the extra security that would be required, Newsweek reported.
The exclusion of all politicians even included their own prime minister, Theresa May, according to Time. When you are sixth in line for the throne, as Prince Harry is, you aren't as obligated to invite world leaders as maybe your brother, who is second in line to the throne, is. The argument could be made that Obama isn't a world leader anymore, but once you are in the world leader club, it's hard to be declassified as one. Even the sixth in line finds repercussions to his guest list, so you don't always get to include everyone you'd like to have. Remember, too, that Prince Harry has a big family and there are many from within Great Britain who needed to be invited, so with limited space in St. George's Chapel, you can't always invite everyone you'd like.
While the decision to not include the Obamas on the guest list seems reasonable, it seems like they would've been fun party guests; the kind who kick back and dance all night. Prince Harry and Meghan Markle probably just had to do the "Electric Slide" without them.