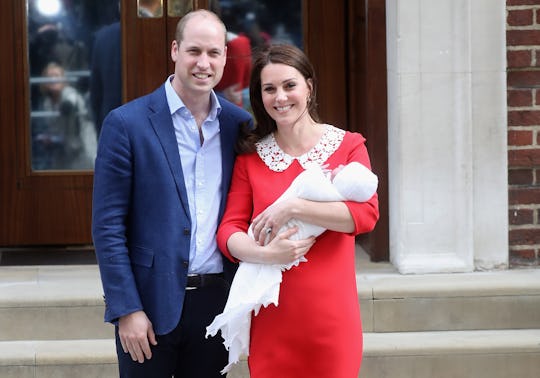 Chris Jackson/Getty Images Entertainment/Getty Images
Are The Royals Required To Have Kids? There's No Minimum Heir Requirement
While all eyes were on Prince William's brother and future sister thanks to their impending nuptials, the second in line to the throne stole the spotlight back on Monday with the news that he and his wife, Catherine, the Duchess of Cambridge, had welcomed their third child. This might have American Anglophiles wondering, are the royals required to have kids in order to keep the bloodline going? If so, how many? And does this mean that Prince Harry and Meghan Markle will have to create a few heirs of their own?
Thankfully, it seems that bringing the new little prince into the world appears to have been William and Catherine's choice alone, as well as their decision to have Prince George, age 4, and Princess Charlotte, age 2. That's because even without those kids, there are still plenty of people in line for the throne after them. Queen Elizabeth is the current sovereign, and next in line is her son, Charles, the Prince of Wales, also known as William's dad. Assuming that everything goes according to plan — that is, there are no untimely deaths or abdication of the throne — George would be next in line after his dad's reign, followed by his own firstborn.
If George doesn't have kids, passes away before William, or renounces his family and goes off to live on an island full of birds like Luke Skywalker, Charlotte is next in line, and then baby number three, whose name is still unknown as of Wednesday. We do know that it's a boy who was born at 8 pounds, 7 ounces, and according to E! Online, he's sleeping well and "behaving himself," as his dad jokingly described to a reporter on Wednesday.
But even without those three royal tots, there are still a dozen more people waiting in the wings to take over the crown, according to the official website of the British Royal Family. After the little ones comes Prince Harry, as most people would probably expect. He's followed by Charles' little brother, Prince Andrew, the Duke of York. Next comes his eldest daughter, Princess Beatrice, and then her sister, Princess Eugenie. They're those two who wear such strange hats, they stand out even in a country where strange hats are expected.
After that, the line of succession gets into "who's that?" territory. After the princesses comes Prince Edward, the Earl of Wessex, younger brother to Charles and Andrew. After Edward comes his 10-year-old son James, Viscount Severn, who's Elizabeth's youngest grandchild. And although the rules prioritizing male heirs were changed thanks to the Succession to the Crown Act of 2013, for some reason James still ranks above his older sister, Lady Louise Mountbatten-Windsor.
If all of Elizabeth's sons, and their respective heirs, are unavailable to sit on the throne, it would then go to her daughter Anne, whose title is Princess Royal. After her comes her son, Peter Phillips, who isn't even high-ranking enough to have a title, yet looks almost exactly like his cousin William. After him come his young daughters, Savannah and Isla Phillips, and finally, Peter's younger sister, Zara Tindall. Finally, although she's not listed on the official line of succession, we can assume the crown would go to Mia Grace Tindall, Zara's 4-year-old daughter. With all those kids in the mix, there's bound to be plenty of royal blood for generations to come, and even though younger generations tend to have smaller families, it's safe to say that the British monarchy would probably be scrapped before anyone started considering forced births.
Check out Romper's new video series, Bearing The Motherload, where disagreeing parents from different sides of an issue sit down with a mediator and talk about how to support (and not judge) each other's parenting perspectives. New episodes air Mondays on Facebook.