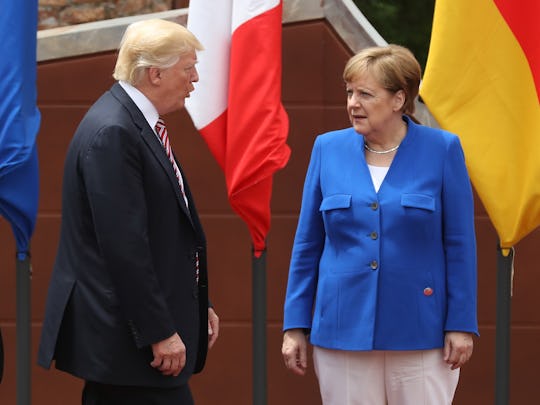 Sean Gallup/Getty Images News/Getty Images
Here's What Angela Merkel's Comments On Trump *Actually* Mean
It's not really a secret that the United States government is going through a bit of a rough patch right now. From allegations of collusion between Russia and Donald Trump's campaign team, to the firing of FBI Director James Comey, it seems as though each day brings with it a fresh, new scandal. And while all the political hell-fire that's happening can seem overwhelming, it's also reportedly gotten to be a bit much for some foreign leaders, as well. So, are the United States and Germany no longer allies? Angela Merkel's latest comments don't exactly shed a positive light on the U.S.-Germany alliance.
Speaking at an election rally in Munich, the German chancellor talked candidly about the country's relationships with other nations, saying, "the times in which we can fully count on others are somewhat over, as I have experienced in the past few days." Recalling Brexit and the United States' election of Donald Trump, Merkel stressed, that "Europeans must really take our destiny into our own hands." Of course, the event was not a formal gathering, and there have been no official movements to dissolve the United States' alliance with Germany, but with Trump's hesitance towards the Paris agreement, and Merkel's latest remarks on the matter, there is definitely some elevated tension between the two world powers, it seems.
Romper has reached out to the White House for comments on these reports and is awaiting a response.
Merkel's latest assertions come merely days after a Group of Seven, or G7, summit in Italy in which leaders from the United States, Germany, France, Britain, Italy, Canada and Japan came together to formally back the "first legally binding global climate deal that was signed by 195 countries," according to Reuters. But Trump himself refused to sign the agreement, stating in a tweet that he would "make my final decision on the Paris Accord next week!"
Now, it seems as though Trump's actions on the matter, or lack thereof, are having a widespread impact on the United States' foreign relations. While it's highly unlikely that any formal declaration of war, or dissolution of the U.S.-Germany alliance will come about, Merkel's comments still point to dangerous territory under Trump's presidency.
Merkel is, quite literally, one of the most powerful women in the world right now, and if she is skeptical of Germany's relationship with the United States, then that could potentially lead to other nation's also feeling nervous about Trump's America. In a time when disasters are way too commonplace, and Scandal is more than just a fantastic television show, the United States needs to stand strong, with the support of — as well as supporting — its allies.