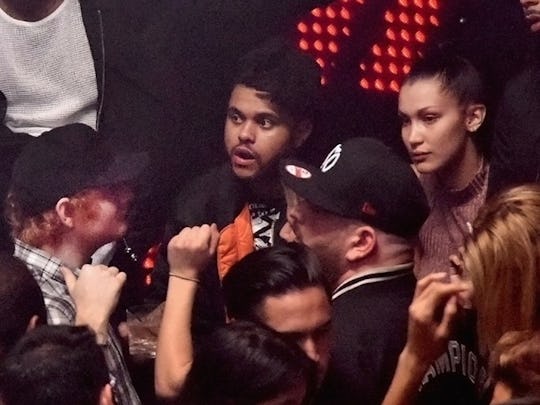 Mike Coppola/Getty Images Entertainment/Getty Images
Are The Weeknd & Bella Hadid Still Together? They Won't Confirm A Breakup
The Weeknd has been around for a few years now, but 2015 appears to be the year in which he really "made it." The singer-songwriter appeared on Saturday Night Live in October (a huge milestone for recording artists), and now he's nominated for an Oscar for his song "Earned It," as well as an impressive seven Grammys for "Earned It," the mega-hit "Can't Feel My Face," and the album Beauty Behind the Madness. Things are going great for him professionally, but what about personally? Are The Weeknd and Bella Hadid still together? With breakup rumors plaguing their 10-month long relationship, it's hard to keep track of the pair, although they've always denied they were ever apart.
The two began dating in April 2015, after The Weeknd (whose real name is Abel Tesfaye) tried unsuccessfully to get the reality star and runway model to appear on the cover of his latest album. "My motive was literally to work with her," he told Rolling Stone. She turned him down, but he took it in stride: "I was like, 'All right, cool — we can meet up face-to-face.'" The relationship just "fell into [his] lap," but at 25, he's ready for something serious. "[I]f I'd met someone two years ago, I probably would've f*cked it up. But I'm more — how do I say it? — clear-thinking now."
The two have never been joined at the hip; they're both busy with their careers, and when Hadid spent Christmas with her family, rumors started flying that the couple was taking a break. A source told E! Online, "Their schedules got very busy and it really cut into there relationship. They are still in each other's lives though, just not in the same exclusive capacity." But just days later, sources told TMZ that rumors of a breakup were false, and in fact, "the relationship has never been one where they were inseparable." And, let's face it, it's perfectly normal for a teenager to spend the holidays with her family, rather than jetsetting around the globe with her boyfriend.
And fans of the couple may soon have something else to celebrate: on Monday, Hollywood Life reported that Hadid and The Weeknd are planning on moving in together (again, from an anonymous source, so don't take it as a sure thing). The source goes on to say that "they've even discussed the idea of marriage, having kids and growing old together." I can think of a few other things that a 19-year-old model should be focusing on right now, but OK! Good for them, maybe!
One thing's for sure, though, they are, at the very least, still a couple. In fact, just last Friday, Just Jared caught the pair exiting Craig's Restaurant in West Hollywood. According to the staff there, the couple left early because they were dissatisfied with their table. Oh, to be young, rich, and in love.