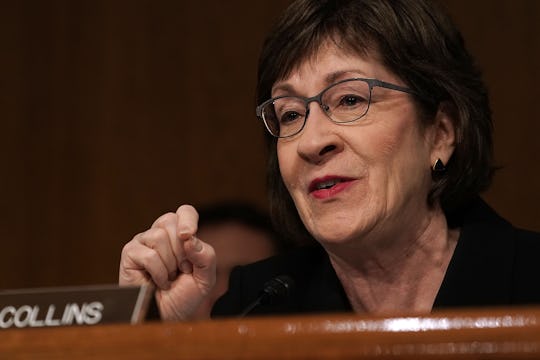 Alex Wong/Getty Images News/Getty Images
Yes, Pro-Choice Republican Senators Do Exist
It might seem like there's a stereotype here in the United States that no Republicans are pro-choice, and that all Democrats are. But that's not necessarily the case. In case you've been wondering, are there any pro-choice Republican senators? The answer is there are, in fact, a few that do identify that way politically, though their actions don't always seem to reflect that political or personal identity.
Questions of political ideology and views on hot-button topics like abortion rights come up pretty often in American politics, but questions regarding the pro-choice nature of some senators are especially prevalent right now with the Judge Brett M. Kavanaugh hearing underway before the Senate Judiciary Committee on Tuesday, Sept. 4. That's because Democrats in particular will likely "aggressively press" Judge Kavanaugh regarding his positions on Roe v. Wade, according to The New York Times.
The New York Times reported that last year, Judge Kavanaugh said that letting an undocumented teenager in federal custody get an abortion was "based on a constitutional principle as novel as it is wrong: a new right for unlawful immigrant minors in U.S. government detention to obtain immediate abortion on demand." That makes pro-choice advocates a little nervous regarding his stance on abortion rights, and whether he would support the constitutional right to abortion if the issue comes up, should he be confirmed.
Eventually, the senators will vote on Kavanaugh's confirmation, and he needs 51 Senate votes to be confirmed, according to The Atlantic. And some people are wondering whether the pro-choice views of a few Republican senators in particular will sway the vote at all.
Sens. Susan Collins of Maine and Lisa Murkowski of Alaska both support abortion rights, and are both Republicans, according to New York Magazine. The outlet notes that both women have "fought their party's efforts to destroy Planned Parenthood," and voted against congressional legislation to restrict abortions in the past.
However, in April, every Republican senator voted to confirm Kyle Duncan, a lawyer who has built a career on fighting abortion rights, as well as LGBTQ rights and voting rights, according to The Huffington Post. That includes Sens. Collins and Murkowski. The Huffington Post also reported that both voted in July to confirm John Bush as a U.S. circuit judge, and that in the past, he's compared abortion to slavery.
Whether a Republican senator says they are pro-choice may not matter as much as whether their actions as a senator prove them to be so. And at times, Sens. Collins and Murkowski have made decisions as public representatives that don't make them appear all that pro-choice, though they have been recognized as such by some major pro-choice advocates.
For instance, Sen. Collins was once honored by the Planned Parenthood Federation of America with the 2017 Barry Goldwater Award, which is awarded to "Republican lawmakers who champion reproductive health care issues." At the time, Sen. Collins said in a statement, according to Planned Parenthood:
Throughout my service in the Senate, I have been a strong proponent of measures to promote and protect women's health and expand all Americans' access to quality health care. Planned Parenthood provides important family planning, cancer screening, and basic preventive health care services to millions of women across the country. For many women, Planned Parenthood clinics provide the only health care services they receive.
However, Sen. Collins and Sen. Murkowski also voted in December to confirm Leonard Steven Grasz as a U.S. circuit judge, even though he argued that lower courts should be allowed to overrule Supreme Court decisions on abortion rights, according to The Huffington Post. The outlet also noted several other votes the two have made that seem to go against their pro-choice stances.
And the constituents of these senators definitely pay attention to their actions and not just their words. On Monday, Samantha Paradis wrote an opinion piece for The Bangor Daily News about Sen. Collins, and wrote that "two months before he was added to Trump's short list of potential nominees, Kavanaugh praised former Chief Justice William Rehnquist's dissent in Roe... if Collins is truly pro-choice, this should give her pause."
Though Sens. Collins and Murkowski both identify as pro-choice Republican senators, their actions may speak louder than their words. And their actions in regards to Judge Kavanaugh's confirmation will definitely be watched closely by the people they represent, as well as pro-choice activists around the country.