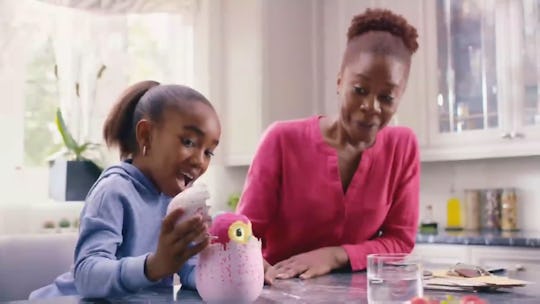 Are There Hatchimal Knock-Offs? Parents May Need To Be Wary of Online Resellers
The hot toy for Christmas, Hatchimals, is sold out everywhere. Parents are searching high and low, most to no avail, and some are resorting to resellers who are price gouging. But parents need to be careful: You don't want to drop $200 to get your child the toy they've been begging for only to find out the toy you've bought is fake. So, are there Hatchimal knock-offs?
Hatchimals hatch from an egg and are a really interactive toy. Hatchimals have three life stages: baby, toddler, and child, and your child can "raise" the the toy by teaching it things like how to talk and when to eat and sleep.
Hatchimals were released on Oct. 7 from Spin Master, and unexpectedly sold out everywhere. The cute plushes are selling for prices starting at $200 on eBay.
But some postings raise red flags about the product's authenticity because they seem too good to be true. This listing on Bonanza has all seven Hatchimals for sale in one batch — but it's going for almost $1,500. Another posting on Craigslist in New York City has a Hatchimal on sale for $1, in exchange for a Nintendo Classic Mini.
In England, Norfolk's Trading Standards warned that fake Hatchimals may be coming soon since retailers can't get more of the toy in stock. The toys sold online are "a greater risk," the Trading Standards spokesperson warned.
Knock-off toys can be hazardous. Some knock-offs contain harmful chemicals, or are made with paint that contains lead, which doesn't meet the standards set by the U.S. Consumer Product Safety Commission.
On a Hatchimals review website, one writer explained how easy it would be to create a knock-off Hatchimal as a warning to parents looking to buy the toy through a reseller. "You can get any stuffed animal made on Alibaba.com (a Chinese e-commerce site) and wrap them in an exact copy of the Hatchimals packaging," the article explains.
A different blogger wrote that she was surprised to find counterfeit Hatchimals on the same website the review site mentioned, even screenshotting pictures of the fakes.
But Richard Gottlieb, CEO of Global Toy Experts, believes that even if there are knock-offs there probably aren't many of them. "There may be [fakes] but I don't think there are a lot because the fad was unexpected and it is complex toy to make," he told Romper.
That's probably because even though the product looks like most other plush toys, it also talks and lights up, which may be difficult to replicate.
That's great news for parents, but that still means buying a Hatchimal will cost an arm and a leg. It may be better to wait until Spin Master releases more Hatchimals in early 2017 and buy it as a birthday present.