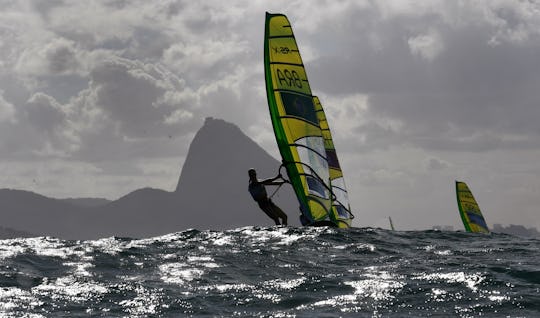 WILLIAM WEST/AFP/Getty Images
Are There Zika Mosquitos In Rio? It's Not As Bad As Originally Suspected
There has been no shortage of controversy when it comes to 2016 Summer Olympic Games held in Rio De Janiero, Brazil. One issue that has been debated time and again is the risk of catching Zika virus while attending or participating in the games. Brazil has been seriously affected by the mosquito borne pathogen. At least a handful athletes dropped out of the Olympics, including champion golfer Rory McIlroy. Others, like powerhouse American goalkeeper Hope Solo, have faced backlash for openly discussing their apprehension about participating in this years games. Some even believed that the Olympics should be moved from Rio altogether, however, the situation isn't as dire as many believe. There aren't as many Zika mosquitos in Rio specifically at the moment, and athletes are highly unlikely to become infected.
The World Health Organization (WHO) confirmed that there was no reason to move the Olympic Games to another city on June 14. The Olympics aren't likely to further the spread of the Zika epidemic because the climate in Rio is cooler and dryer in August. The virus is spread through Aedes aegypti, a type of mosquito that needs a very hot, very dry environment to thrive. Mosquito season in Rio is in their summer months, which is November to March. Rio has never been the epicenter of the Zika outbreak. The majority of known cases originated in northeastern Brazil. Much of Rio has been treated in preparation of the games, as well.
Abby Johnston, a silver medal diver at the London Games, informed The Chicago Tribune that she has not seen a single mosquito. Johnston is a medical student at Duke University and studied the risks of contracting Zika before deciding on participating in the games. Johnston came to the conclusion the the risk of contracting the virus was incredibly low. She was right.
A study released in June by Yale researchers stated that the mania surrounding Zika during the Olympics was an over reaction. The study estimated that the odds of becoming infected by the mosquito-driven virus ranged from 1 in 6,200 to 1 in 56,300. 500,000 people were expected to descend on Brazil for the summer games. Based on this number, the Yale researchers estimated that somewhere between eight and 80 people might be come infected in Rio. This would be the worst case scenario.
While the odds of contracting Zika in Rio during the southern hemisphere's winter months are limited, there are still risks involved in traveling to Rio. Zika does cause devastating birth defects if contracted while pregnant or before becoming pregnant, so it's important to take precautions if you are in an affected area. The WHO and Centers for Disease Control and Prevention have advised that pregnant women avoid traveling to Brazil. For those who are traveling to Brazil at this time, WHO and CDC recommend using bug spray, wearing long sleeves, and using condoms during sex.