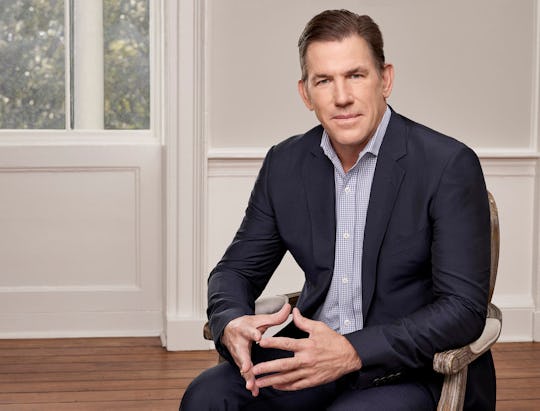 Rodolfo Martinez/Bravo
Thomas & Ashley May Be A 'Southern Charm' Ship Built To Last
The fifth season of Southern Charm premiered on Bravo on April 5 and with the new season came all kinds of new developments, chief among them a romance between Thomas and Ashley Jacobs. Since filming for reality shows happens so far ahead of the episodes airing on TV, fans of the show might be wondering if Thomas Ravenel and Ashley Jacobs are still together — especially since it looks like their relationship is a source of drama this season.
It seems as though Thomas and Ashley are still going strong, at least based on their social media accounts. Ashley is a 32-year-old nurse from Santa Barbara, California, who is new to both Charleston and Southern Charm. Anyone who has tuned into a Bravo show or two knows that new additions always have an uphill battle ahead of them to fit in on the show. That seems to be especially true for Ashley, particularly because of Thomas' contentious relationship with his ex-girlfriend Kathryn Dennis, with whom he has two children.
But no matter how much screaming and shouting unfolds on Season 5 (and it might be a lot), it appears Thomas and Ashley are able to stick it out.
Though Ashley might have friction with Kathryn, she does appear to be blending into the Charleston scene in other ways. She relocated for Thomas and is already getting settled; she even bonded with Thomas' former co-star (and brief romantic partner) Landon Clements. Landon was the one who first revealed the relationship, telling People:
[Thomas'] girlfriend Ashley is a sweetheart, and we've become really good friends, and she's moved to Charleston and is getting her nursing license to switch over. Everyone is happy trying to figure it all out.
Ashley and Thomas must have made a pretty serious commitment to one another considering she moved across the country for him. Though relationships shift quite a lot in Southern Charm, their Instagram and Twitter accounts make it clear that the duo are doing pretty well so far. They're always posting pictures of each other with positive captions — when not commenting on Kathryn or all the negativity on Twitter, that is. Ashley even uses a photo of the two together as her Twitter profile pic.
Editor's Note: The Instagram post has since been deleted.
But Instagram is where Ashley and Thomas really let their relationship shine. Ashley posted a picture of them as recently as April 4 and captioned it, "In a sea of people, my eyes will always search for you." But that's only the newest of a series of photos on Ashley's account that show her alongside Thomas with some very heartfelt caption. In one she expressed a desire to have met him sooner; accompanying a video of them dancing to "Build Me Up Buttercup," she wrote:
You're right, we shouldn't need someone around to make us happy, but life is a hell of a lot more fun when you have someone around that will kiss you unexpectedly, dance with you in the living room, and make you grin from ear to ear.
Though posts on Thomas' Instagram aren't quite as effusive, they are just as common, and the steady stream of photo evidence confirms that this relationship doesn't appear to be going anywhere any time soon. It's impossible to say what might change by the time the reunion rolls around, but right now Thomas and Ashley appear to be fairly dedicated to making it work. There's bound to be plenty of drama before the season is done (on Bravo that's basically a guarantee), so Thomas and Ashley might not have the easiest time, but it seems like they make it out of the season unscathed.
Check out Romper's new video series, Romper's Doula Diaries:
Watch full episodes of Romper's Doula Diaries on Facebook Watch.