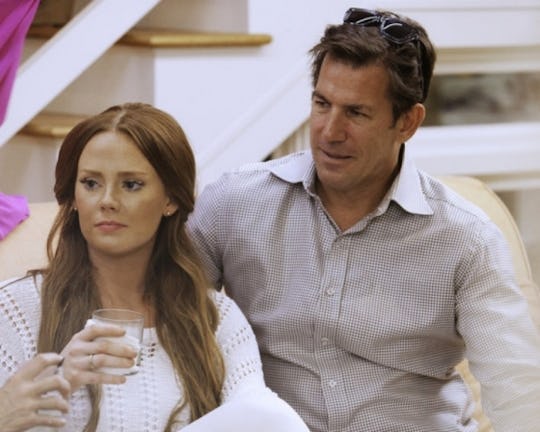 Brianna Stello/Bravo
Are Thomas Ravenel & Kathryn Dennis From 'Southern Charm' Still Together? It's Not Easy To Keep Track
After a hiatus that felt way too long, Southern Charm Season 3 is back, with all of its not-so-proper drama. And I wouldn't have it any other way. Part of the — excuse the pun — charm of the show is the relationships between the characters, specifically Thomas Ravenel and Kathryn Dennis. The two, who found themselves expecting their first child at the end of Season 1, have redefined on-again/off-again, in the best way possible. So, moving into Season 3, you might be wondering if Thomas Ravenel and Kathryn Dennis of Southern Charm are still together, or if they are in one of their "off" moments.
Honestly, who can tell? At the time of the premiere of Season 3, I would venture to guess that the parents of two are not together, but that could very well change. At the end of Season 2, the two argued that there was little support on Thomas' end (both emotionally and financially) after their split. According to Kathryn at the Season 2 reunion, she had only received three checks from Thomas over the last nine months. Weirdly enough, though, at the end of the reunion, fans got the feeling that these two were not over! It was shocking and honestly everything I needed until Season 3 was confirmed by Bravo.
In the time span from the Season 2 reunion to the Season 3 premiere, Thomas and Kathryn have welcomed another baby. This time, it was a son, named St. Julien Rembert Ravenel, born in November. So, you'd think that the two might still be together, right?
Not so much. In February, Kathryn put Thomas on blast for his parenting skills. According to Bravo, it all started when Thomas posted an Instagram photo on Valentine's Day with another woman. (Said Instagram has since been deleted, something Thomas is very good at.) Kathryn responded via Twitter with:
Not so lovey-dovey, despite the holiday, huh? Of course, Thomas wasn't going to let that post simmer too long with the public before clapping back. Thomas told the Charleston City Paper the following in response to Kathryn's tweets:
I don't have to pay anything, but I'm paying $3,100 a month," Ravenel says. "I can only see my kids four days per month, and she makes all this fuss just because I put up a picture on Instagram.
So, are these two still together? (Don't make me laugh.)
Since the Valentine's Day fiasco, the two have not been in any of each other's Instagram photos — which is probably for the best — and have not been in the news. Thomas did post a photo of him and his "lil Saint" at the end of February, so at least you know that he's still able to see the children. As for how the two got to this point, well, I'm assuming that's what Season 3 will be all about.