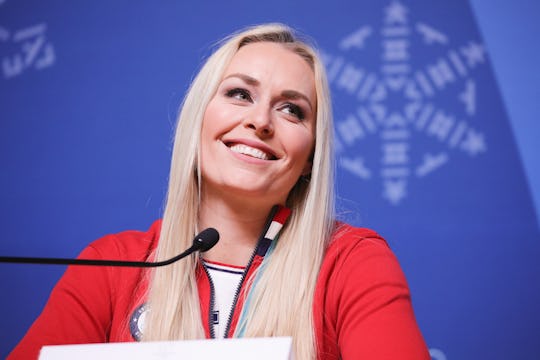 Andreas Rentz/Getty Images Sport/Getty Images
Are Tiger Woods & Lindsey Vonn Friends? Here's What We Know
At the 2018 PyeongChang Olympics, Lindsey Vonn won a bronze medal in downhill skiing, eight years after she won the gold at the 2010 Vancouver Games. It might not have been the result she or her fans were hoping for, but she is still undoubtedly an amazing athlete, with many claiming that she is one of the best skiers of all time. But she's also received a little bit of attention for her life outside of athletics. In particular, fans know that Vonn used to date Tiger Woods, a popular professional golfer and a fellow famous athlete in his own right. But are Tiger Woods and Lindsey Vonn friends post-breakup? She's clearly rooting for his "comeback," and it does appear that they are still friendly with each other.
In January, Vonn spoke to Sports Illustrated about everything from her past victories, to sports-related injuries, to her significant others. Vonn was actually born Lindsey Kildow, according to the interview, and she only took on her now famous last name after she married her ex-husband, U.S. Ski Team racer Thomas Vonn. After her divorce, she dated Woods for more than two years, but the relationship ended in 2015. But Vonn doesn't seem to have any regrets about the experience, and it sounds like they're still friends.
In January, Vonn said of Woods, according to Sports Illustrated:
I was in love... I loved him and we're still friends. Sometimes, I wish he would have listened to me a little more, but he's very stubborn and he likes to go his own way. I hope this latest comeback sticks. I hope he goes back to winning tournaments.
It's great that Woods and Vonn are still friends, because it's not always easy to maintain a friendship after a breakup. And the truth is, it sounds like it wasn't always easy when they were together, either. Before their relationship ended in May 2015, Vonn and Woods were considered one of the "it couples" of the sporting world, and Vonn expressed in the past that she found it "really hard" to be with Woods because of all the scrutiny they faced as a celebrity couple, according to The Sun.
Vonn has also been somewhat vocal recently about some of her political leanings, in a way that might surprise fans of Woods, who is both friends with Vonn and also recently golfed with President Donald Trump, according to Golfweek.
In December, Vonn told CNN she wanted to "represent the people of the United States, not the president" at the Olympics. She also said that she didn't feel that there are a lot of people in the current U.S. government who are representing the country very well, and that if she were invited, she would not accept an invitation to the White House after the Games. Those comments earned her some, shall we say, choice comments, from Trump supporters.
So it doesn't seem like Vonn is the biggest fan of the current administration, but Woods didn't seem to mind playing a round of golf with Trump last year. A lot of Woods' fans were not especially pleased with the development, but I'm more curious what Vonn thought of it, if they truly are still friends.
But for what it's worth, Vonn has recently said that she and Woods are still friends, and she doesn't seem to harbor any ill will toward him.
But she did just win a medal at the Olympics, and she's likely hearing from a lot of family, friends, and loved ones congratulating her on that victory. We may never know if Woods happens to be one of them.
Check out Romper's new video series, Romper's Doula Diaries:
Watch full episodes of Romper's Doula Diaries on Facebook Watch.