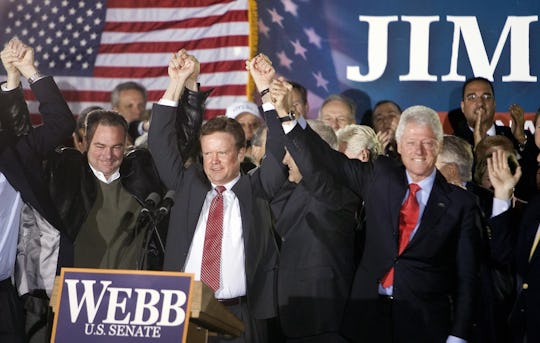 PAUL J. RICHARDS/AFP/Getty Images
Are Tim Kaine & Bill Clinton Friends? The Former President Supports The VP Pick
Hillary Clinton now has another main man in her life, at least in the realm of her presidential bid. After a long and undoubtedly rigorous vetting process, the former Secretary of State selected Virginia Sen. Tim Kaine as her running mate Friday. Kaine's initiation into the Clinton machine also means he'll become even more intimately acquainted with her husband and former president, Bill. Although he's largely stayed off her campaign trail, Bill Clinton has an integral advisory role. That means the new Democratic veep got the full Clinton approval before his Miami debut Saturday, but are Tim Kaine and Bill Clinton friends?
As a scandal-free centrist and Spanish-speaking Catholic, the longtime politician from a key swing state is universally acknowledged as a safe pick for Hillary Clinton, and her camp seems convinced that his clean record will only benefit her quest for the White House. And Bill Clinton is definitely among them: Just two days before Clinton made her official announcement, The New York Times, citing unnamed Clinton insiders, reported that the potential "first dude" backs Kaine as VP. But winning elections is about forging political connections and strategically securing allies, not hitting up happy hour together after work, so his reasoning was, predictably, purely professional.
Kaine — who's previously served as Virginia's lieutenant governor and governor and is now a member of the Senate Armed Forces Committee — reportedly garnered Bill Clinton's support through the strength of his domestic and international security experience. He worried, though, that a Republican could fill Kaine's Senate seat if he were to vacate it.
But Kaine's other assets apparently assuaged that trepidation, and he gave a triumphant, bilingual speech during his first public appearance with Clinton as her chosen No. 2 in Miami Saturday. There, he embraced the traditional "attack dog" role of the vice president, condemning Republican nominee Donald Trump's presidential aspirations. "He leaves a trail of broken promises and wrecked lives wherever he goes," Kaine said.
And CNN reported that last week, Clinton and Kaine spent about an hour and a half in a meeting together, while she was in the final stages of whittling down her shortlist (Kaine came out at the top of a strong collection of potentials that included Massachusetts Sen. Elizabeth Warren, HUD Secretary Julian Castro, and Secretary of Labor Thomas Perez.). Soon after, the two families, including Bill Clinton and Kaine's wife, met as well. We may never know whether the two men had a conversation there or what they talked about, but Bill Clinton did retweet his wife's announcement that she'd chose Kaine as her running mate.
In politics, that type of endorsement may not be the marker of a blooming best friendship, but it's a clear indicator that Bill's on board the Kaine train. And that's important, because they'll certainly work together if Clinton makes it into the Oval Office. In May, Clinton confirmed at a Kentucky campaign event that her husband would certainly have a role in her administration.
"My husband, who I'm going to put in charge of revitalizing the economy, because you know he knows how to do it," Clinton said, according to The Guardian. "And especially in places like coal country and inner cities and other parts of our country that have really been left out."
During the time that Bill Clinton was president from 1993 to 2001, Kaine was first a city council member in Richmond and then mayor of the city, according to The Washington Post. Bill Clinton has been a mainstay in the national spotlight for much, much longer, but now the two men's political stars are beginning to align. Because Bill Clinton is a behind-the-scenes advisor in his wife's campaign, he'll more than likely be doing everything he can to ensure that Kaine helps her defeat Trump in November. It will be a full-time, grueling process for both of them, and it may just demand some wind-down happy hours among friends.