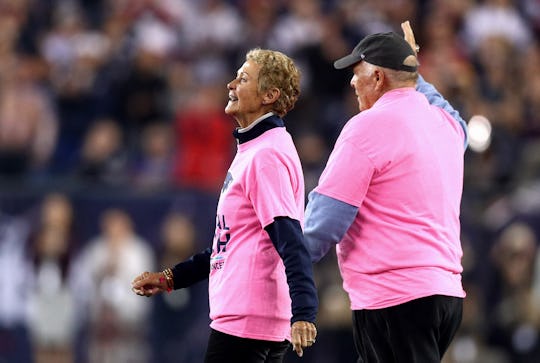 Maddie Meyer/Getty Images Sport/Getty Images
Tom Brady's Parents Are So Ready To Cheer Him On At Super Bowl LII
Having a child means being supportive in their endeavors, cheering them on, and showing up for all their important moments. But when your kid really excels at their activity of choice, it's like, enough already, you know? With that in mind, are Tom Brady's parents at the Super Bowl, or have they fulfilled their obligation to their son after the seven previous ones? To be honest, if it were my son, I might be tempted to skip it — attending the Super Bowl is a whole thing, after all — but that's not how the Bradys roll.
Galynn Brady and Tom Brady Sr. are extraordinarily close to their son, and they rarely miss a chance to see him play. They did attend the Super Bowl on Sunday, and they even gave an interview prior, according to a number of Twitter users. Brady credits his parents for much of his gridiron success. At Super Bowl LII Opening Night on Monday in St. Paul, Minnesota, a young girl named Natalie, the winner of Panini's annual Super Bowl Kid Reporter contest, was given the opportunity to ask the New England Patriots quarterback one question, and it seems like she might have already known the answer. "Who is the most inspiring woman in your life?" she posed to the football star, according to Boston.com.
Brady was careful with his answer: "The most inspiring woman in my life? Oh man. I'd say... My mom and my wife. They're amazing. They're both amazing in their own way." Fair enough; choosing your parent over your spouse (in public, no less) is a recipe for disaster, but the fact is that Galynn has been an inspiration for not just her son, but everybody on the team. Last season, she was only able to attend one game, but it was the one that really mattered.
In the summer of 2016, Galynn was diagnosed with stage 2 breast cancer. It was "a very fast growing, aggressive kind," she told the NFL Network's Andrea Kremer in an interview last October, according to CBS Sports, a kind that required surgeries, chemotherapy, and radiation. Because of her weekly chemo appointments, Galynn was homebound throughout the football season. Every Thursday, she'd receive her treatment, and on Sunday, she and Tom Sr. would watch their son play on TV. She finished her five-month course in mid-January, just two days before the Patriots clinched the Divisional Playoffs game against the Texans. A week after that, she was watching her boy defeat the Steelers in the AFC Championship game, but there was another complication: she came down with both pneumonia and shingles.
It wasn't until the day before her flight that Galynn's doctor officially cleared her to travel to Houston to watch her first and only game of the season: Super Bowl LI. Her daughter-in-law, Gisele Bündchen, did her makeup, Galynn recalled, "to make me look a little healthier," shown in the video above, and she finally got to see her son take the field. But things weren't going as planned. Midway through the third quarter, Galynn said, "I said to Tom, 'I just want to go home.'" The Falcons were leading the Patriots 28-3. "I was heartbroken for Tommy," she told Kremer.
Some say what happened next was all thanks to Galynn. The microphones picked up wide receiver Julian Edelman giving his teammate a pep talk: "Let's go score and win this thing, baby," he told a dejected-looking Tom Jr., according to NESN. "For your mom. For your mom, bro." The Pats went on to tie up the game in the fourth quarter, and for the first time in history, a Super Bowl went into overtime. The Patriots won 34-28. For Galynn. Team CEO Robert Kraft even had a Super Bowl LI ring specially made for her. "What a battle she's fought," Tom Jr. told CBS This Morning's Norah O'Donnell last September. "Inspiration comes in many ways, and she's been a big inspiration for me. She's the most loving, caring, sweet person in the world. So many people in the world were there to support her when she really needed it." And likewise, she's there for him.
Check out Romper's new video series, Romper's Doula Diaries:
Watch full episodes of Romper's Doula Diaries on Facebook Watch.