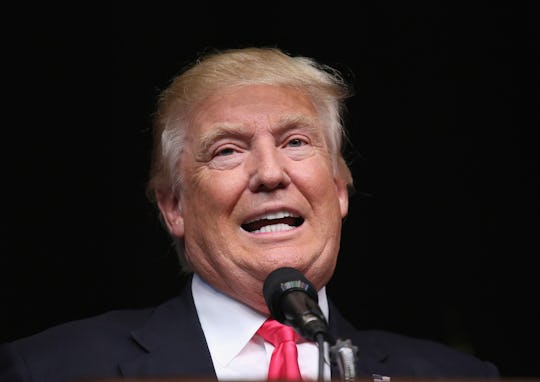 John Moore/Getty Images News/Getty Images
Are Trump's Products Made Overseas? He's Making Outsourcing Great Again
As the Democratic National Convention draws to a close on Thursday night, the Democratic party has a lineup of speakers to make one last push to propel forward former Secretary of State Hillary Clinton as the next Democratic presidential nominee. The DNC has also spent the week in Philadelphia, Pennsylvania on the national stage to actively take on and question GOP nominee Donald Trump's many claims to "Make America Great Again." One of the biggest claims is Trump's pride in his products, which he claims are "Made in the USA" — but are any of Trump's products made overseas? Yes. Oops.
Damning, but not surprising, as yet another of Trump's hyperbolic claims has been taken down by the facts. According to an investigation by Robert Lawrence, a Professor of Trade and Investment at the John F. Kennedy School of Government at Harvard University, most of Trump's clothing is made in China or Bangladesh — and many are labeled only as "imported." This includes Trump products such as his $65 ties and $250 suits, each emblazoned with the Trump name on every label. And yes — this also includes all those iconic "Make America Great Again" Trump supporter baseball and trucker hats.
His daughter, Ivanka Trump, isn't immune from the overseas treatment, either, as of her 838 products available for sale, nearly 76-percent of Ivanka Trump brand products are made overseas, labeled as "imported." Of those imported products, over 50-percent were specifically labeled as "Made in China."
On an airing of ABC News This Week in May, host George Stephanopoulos confronted the blow-hard billionaire point-blank: "But don't you have to also lead by example? You know, so many of the products in the Donald J. Trump Collection are made overseas — Bangladesh, China…" Trump played it off like it was no biggie, since you can't buy most of the Donald J. Trump products in the United States, anyway. Stephanopoulos pushed back with Trump's own criticisms of other American companies making their products overseas, saying, "Shouldn't you make your products in America?"
Again, Trump passed the buck on his own responsibility, responding with: "But they don't make a lot of these products. They don't even make them here anymore."
So much for leading by example and creating jobs here in America, huh Mr. Trump?