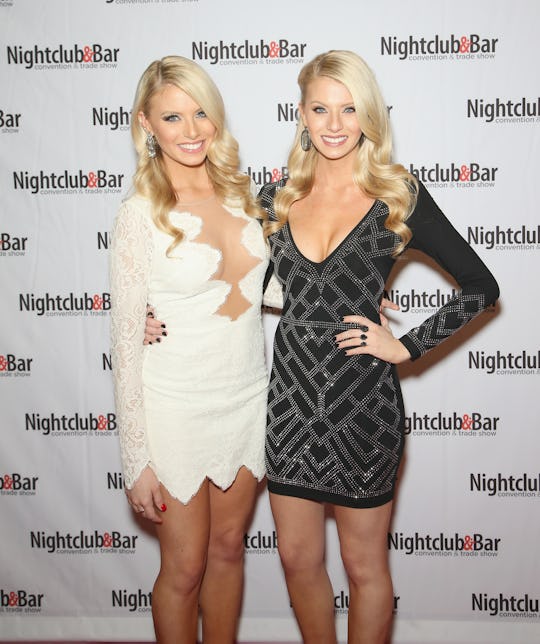 Gabe Ginsberg/Getty Images Entertainment/Getty Images
'Bachelor' Nation's Favorite Twins Are Returning to 'Paradise'
Haley and Emily Ferguson are about to make their third go-round on a Bachelor franchise show, and that's not counting the Freeform spinoff they landed called The Twins: Happily Ever After. Alums of Ben Higgins' season of The Bachelor, Haley and Emily are those notorious platinum blonde twins who embrace their endearing cluelessness, take no issue vying for the same dudes, and finish each other's sentences in a way that's half-cute and half-unnerving. So are twins Haley and Emily single after Bachelor in Paradise? They've struck out every season so far.
Ben Higgins chivalrously met up with the twins' mom early on during his season to get a better sense of their individual personalities and eliminate one of them quickly. (He was clearly super uncomfortable with dating sisters.) Neither of them wound up making it very far, but they both came back for Bachelor in Paradise Season 3. And although it was pretty cute watching Nick Viall become like a stand-in older brother to them, protectively giving advice and helping them sort out their feelings, neither of the twins wound up finding a good match, and so they both self-eliminated midway through the season. In an interview with Glamour ahead of their Freeform series, Haley and Emily admitted that they felt a little too immature to be ready for the Bachelor franchise, and so the focus of their own show was on personal growth.
Said Emily during the interview:
I think it didn't work out for us because we were so immature. We have so much to learn. Our new show is about finding ourselves so we can one day be great for that perfect someone. I think that's what's so amazing. Our happily-ever-after right now isn't about meeting the perfect person. It's about loving ourselves and trying to find things that we're good at, and a career, and confidence. That's what I love the most.
Each of them were reportedly dating guys last fall and even as recently as Valentine's Day. But given that Bachelor in Paradise filmed since then, it seems like they've been enjoying single life — and probably learning a lot from Ben and Lauren, whose Freeform show the twins appeared on regularly. (It's how they got their own spinoff.) There don't seem to be any special guys featured on either of their Instagram accounts, but the twins don't regret exposing their emotional shortcomings to the world via The Bachelor. Said Haley during the same interview with Glamour:
I just would like for people to realize that we're maturing step by step and there's always room for improvement. I have learned so much about myself filming this series. Even with The Bachelor and Bachelor in Paradise, I'm pushing myself out of my comfort zone. A lot.
You can see how they do on Bachelor in Paradise Season 4 when they arrive on Tuesday, Sept. 5.