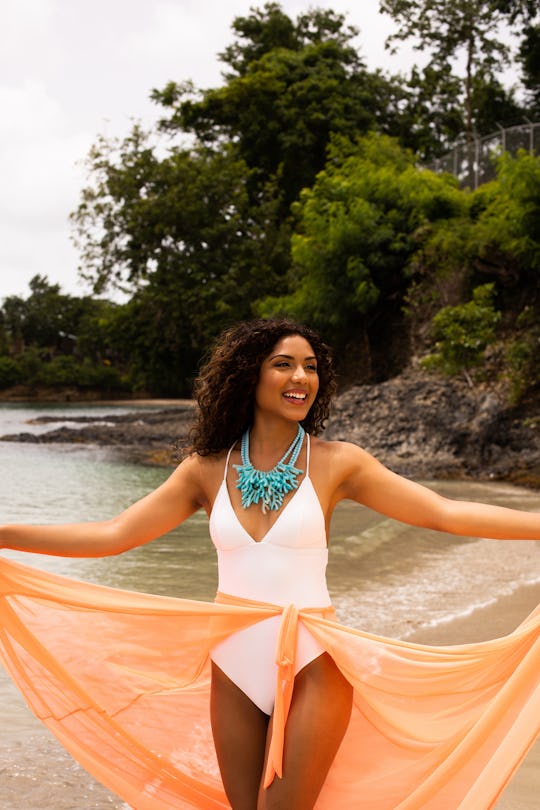 Rose Marie Cromwell/Lifetime
Tyler & Isabella Could End Up Together On 'MAFS: Honeymoon Island'
The premise of Married at First Sight: Honeymoon Island is a simple one: singletons who didn't make it on the original show in the franchise are shipped off to a luxury resort on a beautiful island so that they can fall in love for the entertainment of the masses. Some contestants connected immediately, like Tyler Moody and Isabella McKenzie, but it's still so early in the season that it's hard to tell if they'll last. Are Tyler and Isabella still together after MAFS: Honeymoon Island? Fans can only guess.
Social media is the easiest way to figure out what's going on in a reality TV star's life after the cameras have stopped rolling. Unfortunately, neither Tyler nor Isabella's social media accounts appear to be readily available. It's possible they're keeping them private until the show is over to prevent spoilers from getting out there, or maybe their usernames just aren't Google-friendly. Whatever the reason, the lack of availability keeps their future as a couple a mystery.
MAFS: Honeymoon Island airs Tuesdays on Lifetime. Fans might just have to take the long route to find out if Tyler and Isabella decide to give their relationship a shot once their day in the sun is over. But the rest of the season is sure to be an entertaining journey.
Since the original MAFS involves sending two strangers down the aisle together, it's no surprise that things would move fast on its spinoff, too. Tyler and Isabella had chemistry from the start, and seemed to share a bond pretty quickly. After their first date, Isabella was hopeful because they both wanted the same things and they were both ready to take the next step. They were there for something serious and it looked like they were on the same page. That became especially clear after they shared their relationship goals and the details of their childhoods.
But in Episode 2, Dr. Jessica pointed out that their relationship could burn out fast. And there was some trouble right away. Isabella's past on reality TV had Tyler questioning how genuine her feelings really were — ignoring, of course, that he had also sought out a spot on a reality dating show. He felt that things were a little too perfect with Isabella to be true, which is the definition of champagne problems. If the only thing holding Tyler back is that nothing is holding him back, then it's the kind of issue that can be easily resolved.
Everything is going well for Tyler and Isabella so far, but there have only been two episodes of Honeymoon Island. With six more to go, almost anything could happen. Perhaps their qualms about bed-making (Tyler: pro; Isabella: against) will be an insurmountable obstacle. Maybe Tyler can't get by without a little more drama than Isabella provides. They still have a lot to learn about each other before they make their big decision in the finale.
However, there's always a chance that Isabella and Tyler's chemistry will carry them right to the altar when all is said and done.