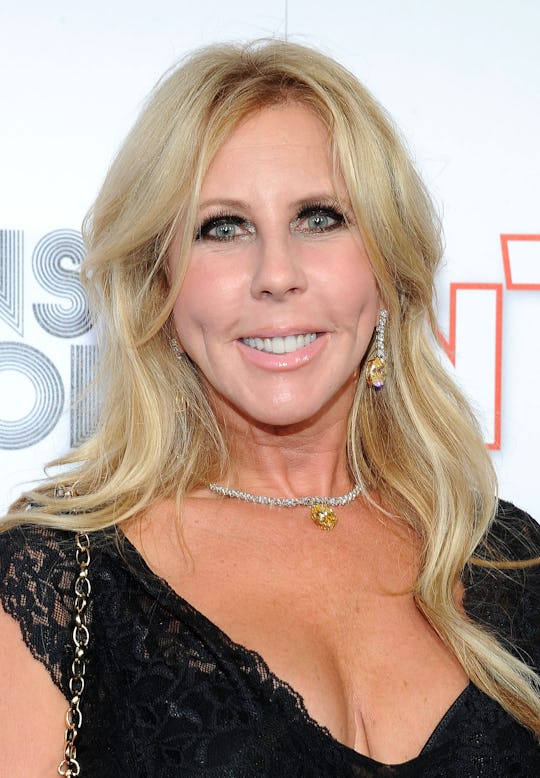 Valerie Macon/Getty Images Entertainment/Getty Images
Are Vicki Gunvalson & Brooks Still Together On 'Real Housewives'? He's Still In Her Life
The saga of Vicki Gunvalson and Brooks Ayers is one that has been haunting The Real Housewives of Orange County for years now. No matter how many questionable or creepy things Brooks does, Vicki has stood by her man and stood up for him as friends and family brought up concern after concern. They finally called it quits after last season's medical records debacle, but the promo for Season 11 showed Vicki confessing her love for him once more via telephone. So, are Vicki and Brooks still together on Real Housewives?
Thankfully, no. Apparently Vicki has a new man in her life and she's trying to move on, but she still has fond feelings for her ex and he's definitely not out of her life completely. Her rep insisted to RadarOnline that the moment in the promo was misleading – Vicki was merely telling Brooks that she loves him like she loves all her exes, Donn included. Vicki keeps in contact with Brooks, but she's not planning on getting back together with him any time soon, and it doesn't look like he'll be showing up on the show either.
Instead worrying about Brooks, Vicki is busy having a great time with her new boyfriend, Steve Lodge.
Vicki's family and RHOC co-stars are probably as thrilled as fans to have Brooks out of the picture, at least for now. Though his presence generated more than its fair share of uncomfortable arguments you nevertheless couldn't look away from, it was getting pretty exhausting for everyone involved that Vicki never seemed to see Brooks' shadier side. Even when her daughter brought up how much she disliked Brooks, it didn't seem to make a dent in Vicki's affection for him. It was understandable from Vicki's side, as frustrating as it was for those around her; the idea of Brooks lying about something as serious as a medical diagnosis was just too unbelievable for her.
"I'm guilty of loving him and believing him. Who hasn't believed someone that you loved?" Vicki said in the Season 10 reunion special. "I would never want to make something up like this; it's actually quick sick. I'm embarrassed." Though Vicki has kept her distance from Brooks since their most recent breakup, that brief moment in the trailer would indicate that things aren't entirely over yet. Even if Brooks himself doesn't appear in the upcoming season, he might still be a point of contention between the ladies.
Vicki was actually considering stepping away from the show because Season 10 was such a hard time for her, but she ultimately decided to stay and fight it out, which is good news. Seriously, what would RHOC be without Vicki?