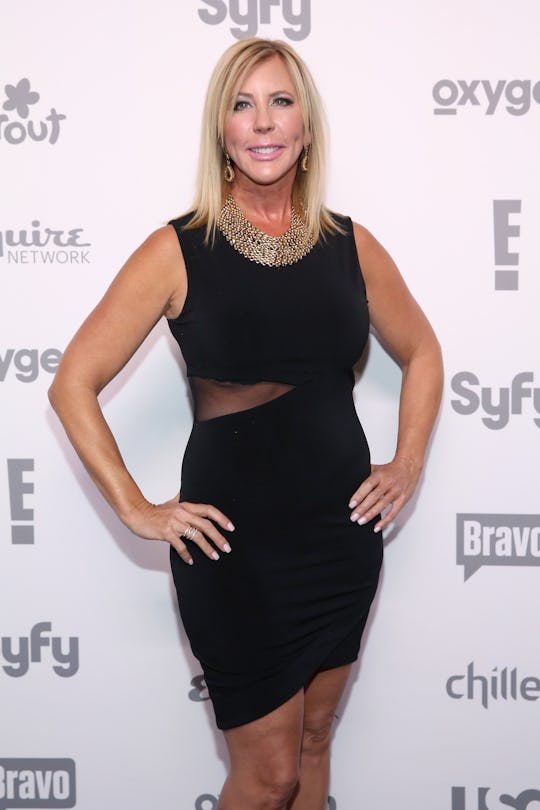 Robin Marchant/Getty
Are Vicki Gunvalson & Meghan King Edmonds Friends? They're Getting There
This season on The Real Housewives of Orange County, Vicky Gunvalson is still dealing with the fallout from her relationship with Brooks Ayers, and the gradual realization from the other women that Brooks had actually been faking his cancer. All of the women came into the season with some serious bones to pick with Vicki, and Meghan King Edmonds, who spearheaded the campaign against Brooks, was no exception. Shannon Beador, Tamra Judge, and Heather Dubrow have all taken baby steps towards reconciling with Vicki, and it looks like Meghan is about to do the same. Are Vicki and Meghan on The Real Housewives of Orange County friends? They may be someday, but Vicki doesn't want to be "friends friends friends friends" just yet.
In the previews for Episode 7, Vicki attempts to apologize to Meghan for everything that happened the year before at Meghan's sushi party. In her personal interview, Vicki clarifies that she just wants to have a cordial relationship with Meghan, the sort of relationship where they ask about each other's kids and health and that's about it. They're not going to be having slumber parties and lunch dates any time soon. Frankly, it doesn't look like anyone is ready to have that kind of relationship with Vicki again any time soon. With the exception of her daughter, Briana, of course, with whom her relationship has seemingly never been better.
Of course, the tension between Meghan and Vicki goes way back before the whole Brooks does-he-or-doesn't-he have cancer debacle. When Meghan first joined the cast, she was a bit of an outsider not just because she was new to the show, but because at 30 years old, she was significantly younger than the rest of the women.
As the OG of the OC, Vicki has developed a bit of a reputation for being hard on newcomers, and she certainly didn't make things easy for Meghan. So while Vicki may have apologized to her, it would be quite a twist if the two turned out to be as close as Vicki once was with, say, Shannon or Tamra. No matter how you look at it, Vicki started the season with an uphill climb regarding her relationships with all the women, and it could be that the one lasting friendship she came away with at this point is with newcomer, Kelly Dodd.