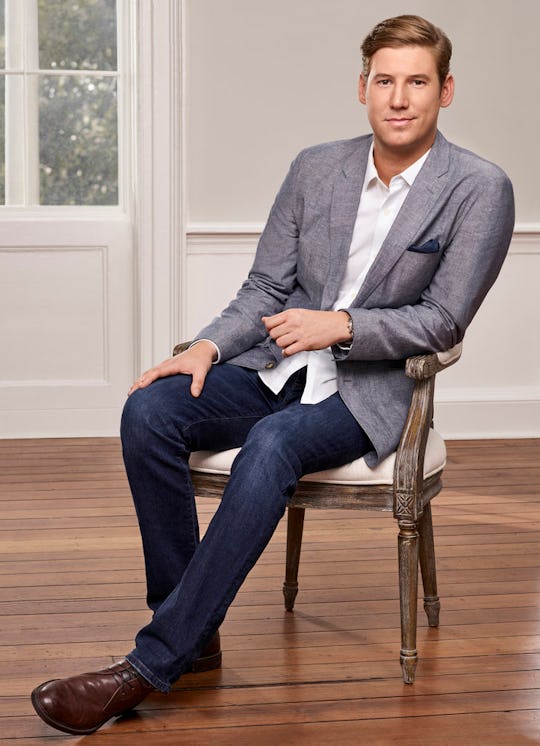 Rodolfo Martinez/Bravo
Did Austen & Victoria Break Up On 'Southern Charm'?
On Southern Charm, relationships can sometimes get a little messy. Case in point, it was a bit awkward when Austen broke up with Victoria because of his feelings for Chelsea only to then get back together with Victoria after he and Chelsea broke up for good. Still, when Austen and Victoria decided to give their relationship another shot, it looked like this time it would actually work out. Unfortunately, that moment of bliss between them was short lived. Now fans are asking: are Victoria and Austen still together on Southern Charm?
First, it's important to really dive into the history of this love triangle because it's a little complicated. Chelsea and Victoria were actually good friends once, and when Austen broke up with Victoria to give his relationship with Chelsea another chance, Chelsea didn't take him up on it. More importantly, Austen realized it was Victoria he really wanted to be with. That said, it's totally understandable why Victoria would feel a bit threatened by Chelsea, which is where her problems with Austen truly lie.
Though they've broken up, Chelsea and Austen remain good friends and in the latest episode they, along with Naomie and some other friends, went to Chelsea's hometown of Hilton Head, South Carolina. While there they went crabbing and on the boat ride it was quite cold and raining, so Chelsea held onto Austen and used him to stay warm. Naomie took a pic of the pair and shared to her Instagram story, which Victoria of course saw and became livid.
While Austen was still in Hilton Head, Victoria called him accusing Chelsea of kissing him on the shoulder in the pic. Austen, of course, claimed that wasn't what was happening at all and that the photo was misleading. He tried to explain that he and Chelsea were just trying to stay warm on the boat, but Victoria wasn't having it. She then threatened to end things, calling Austen and Chelsea "disrespectful," which caused Austen to become fed up.
"This can't happen," he said. "I think you are overreacting 100 percent. You've always had this jealousy. I'm not going to talk you off the ledge every single time that you have an insecure thought. Do you want this to end like this? Because you're jealous of her holding my arm because we're cold?"
Victoria didn't seem to have a clear answer, and the fight only continued once Austen got home. While the episode didn't make it clear whether or the not the couple actual split after the fight, Austen's Instagram seems to indicate he and Victoria might really be over. In fact, if his Instagram tells us anything it's that Austen now seems to be dating a woman named Madison LeCroy. The potential new couple look incredibly cute, riding bikes around Charleston and going to brunch often. Thus it seems Austen and Victoria are truly kaput and Austen has already moved on.
With this season's reunion special on the horizon, there's no doubt that the Chelsea, Victoria, and Austen debacle will come up, and perhaps that's when fans will learn if the photo of Chelsea and Austen was really the nail in the coffin of Austen's relationship with Victoria or if something else happened as well. For now, it at least looks like Austen is happy with someone new, and perhaps this is what he should've done all along. Because of his history with both Victoria and Chelsea, his relationship with Victoria would've always been complicated. Now with Madison it looks like Austen has a fresh start and hopefully Victoria will be able to do the same.
A release date for this season's reunion special has not been announced yet, but it's certainly one you won't want to miss.