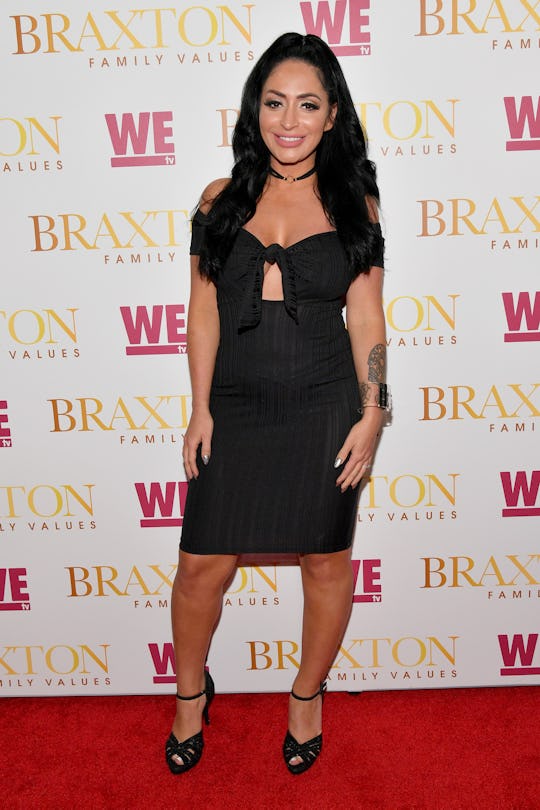 Dia Dipasupil/Getty Images Entertainment/Getty Images
Here's Where Vinny & Angelina Stand After 'Jersey Shore Family Vacation'
Jersey Shore Family Vacation is back and Season 1's most epic prank made a comeback, becoming an even bigger part of Season 2. Angelina Pivarnick returns to the show (after being ousted from the shore house early in the original run) to crash with her former housemates for awhile. Naturally, she stirs up some drama, including a rumored fling with Vinny, which has fans are wondering: are Vinny and Angelina friends after Jersey Shore Family Vacation? It depends on which of them you ask.
According to Angelina, her visit during Season 1 effectively repaired her fractured relationship with the housemates. She came in (fairly) humbly requesting a clean slate now that a full nine years had past since her initial indiscretions and petty feuds with the cast, and they tentatively offered it.
"It's a lot of drama. It's a lot of fun. It's a very crazy season. Better than last season," Angelina told Newsweek of her Season 2 appearance. "A lot of stuff goes on and I'm really happy to be back. I'm really fortunate. MTV's amazing. The show is just going to be so much better than last [season]. You just have to tune in! It's going to be a lot of crying, happiness, family, just fun partying [and] babies."
To hear her tell it, she's on pretty solid ground with her castmates, including Vinny. She even did promotional appearances with the cast ahead of Season 2's premiere. But in a radio interview with 94.5 PST, Vinny joked that Angelina was very much not a part of the core group. When asked if the cast hung out after filming, Vinny said:
We always used to kind of like stop talking when the show was off. We had egos and we'd be like, 'Alright, now I'm going to go do my thing over here, I gotta to go film this show, I'm sick of them.' Now we're like, best friends. Literally, we have such a bond with each other from all we've been through that we're on a group chat. We talk 24 hours a day and if somebody's doing a project, it's like, 'Yo can you come be on my thing?' We are a real family, we talk all day. Everyone except for Angelina. Angelina's not allowed.
It's possible that Angelina is overstating her coziness with the group, but it's equally possible that the gang is keeping up their long-running gag of finding Angelina to be an annoying hanger-on. Either way, it seems like it's all in good fun and no one's too offended. Or at the very least, the ribbing is beneficial for everybody's brand, including Angelina's.
During Season 2, Angelina and Vinny squabbled more than usual, leading Ronnie to suggest that they needed "one more hate-f*ck" to get it out of their systems. But both Angelina and Vinny denied that they had feelings for each other — or a remote desire to have sex with each other — and it does seem pretty implausible that they would, considering that Angelina is happily engaged now. But the macaroni rascals gonna rascal.