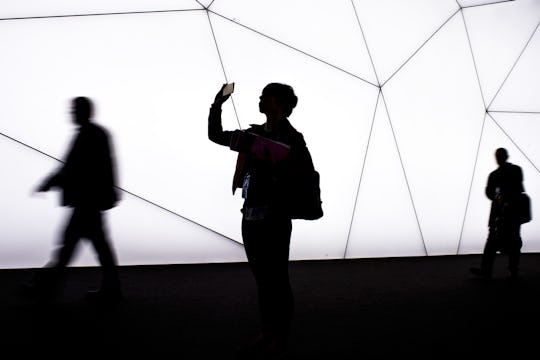 David Ramos/Getty Images News/Getty Images
Are Violent Videos Allowed On Facebook Live?
On Sunday, 74-year-old Robert Godwin Sr. was reportedly returning home from celebrating Easter dinner with his family in Cleveland, Ohio, when he was allegedly shot in the face at point blank range, as shown in a graphic video uploaded to Facebook by the alleged shooter. The suspect, 37-year-old Steve Stephens, is still at large and reportedly remains the subject of a manhunt spanning five states. This violently graphic video raises an important question about the social sharing platform, especially given a spate of graphic videos posted to Facebook that have made national attention: Are violent videos allowed on Facebook Live? A Facebook spokesperson provided the following statement to Romper:
This is a horrific crime and we do not allow this kind of content on Facebook. We work hard to keep a safe environment on Facebook, and are in touch with law enforcement in emergencies when there are direct threats to physical safety.
Stephens did not immediately respond to Romper's request for comment and a representative for him has not yet been appointed.
While initial reports stated the shooting was broadcast via Facebook Live, Facebook issued a statement to the press late Sunday night saying that Stephens did not broadcast the incident live, rather, it was recorded and uploaded to Facebook by Stephens sometime after the incident occurred, according to The Washington Post. The video has since been taken down from Facebook.
According to Facebook's own Community Standards, Facebook will remove any graphic content shared for "sadistic pleasure," or to "celebrate or glorify violence." Even so, Stephens's video comes after an alleged gang rape of a 15-year-old girl was broadcast via Facebook Live last month. Last July, Philandro Castile was shot and killed by a police officer; Castile's shooting death was live streamed to Facebook by his girlfriend outside their Minnesota apartment complex.
With the ubiquity of Facebook and how it's changed human communication, the 13-year-old social media platform has often found itself at the center of controversy when it comes to online interaction and social sharing. At each instance, Facebook has had to respond to a growing number of disturbing new social realities enabled by its own platform, from how it handles cyber bullying and harassment, to posts showing self-harm and suicidal threats. While incidents of violence broadcast live to Facebook are nothing new, the company has yet to address issue of graphic live-streamed violence in a way as focused as it has with other issues such as bullying and suicide.
To be honest, Sunday's shooting posted to Facebook feels like it could be the subject of an episode of the Netflix series Black Mirror, a speculative fiction show that explores the darkest sides of technology with plot lines that feel all too uncomfortably real — and near. But the difference is of course that Godwin's death is not fiction, and his final terrifying moments have been viewed thousands, if not millions of times since it was first uploaded to Facebook on Sunday.
I won't link to the video, because it is exceptionally graphic and disturbing — and to be honest, you can find with just a quick Google search: Even though the video has been taken down, a plethora of live stream video capture techniques and apps have allowed the video to remain online.
What's particularly troubling is that there's no way to really stop the violence from being broadcast live as it's happening. Facebook tells users to contact local law enforcement if they feel threatened by something they see on Facebook. It also instructs users to use Facebook's "Report" tool.
But there's nothing Facebook — or any social media platform, for that matter — can do to erase what you've already seen from your brain. It's bad enough when you stumble across this kind of graphic content on your own; imagine how much more traumatizing it must be if your kid sees it by accident.
That said, there are no easy solutions to live-streamed violence, as Facebook itself notes that graphic violence documented on Facebook can serve the greater good:
Facebook has long been a place where people share their experiences and raise awareness about important issues. Sometimes, those experiences and issues involve violence and graphic images of public interest or concern, such as human rights abuses or acts of terrorism. In many instances, when people share this type of content, they are condemning it or raising awareness about it.
Unfortunately, the only thing we can do is look away, hit the Report button, and hope for the best — and as Sunday's shooting reveals, this may just be our new, disturbing normal on social media.