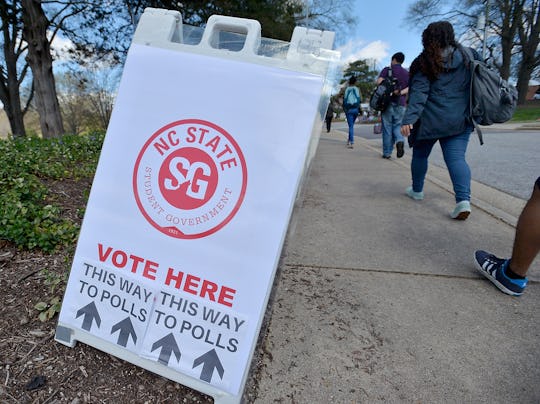 Sara D. Davis/Getty Images News/Getty Images
Are Voter ID Laws Affecting Minority Voters? Recent Statistics Are Troubling
With early voting well underway across the country for the 2016 election, returns are showing black voters aren't turning out in the same numbers as they did in the 2012 election. Sure, there was bound to be less enthusiasm for former Secretary of State Hillary Clinton (who's policies and comments about black Americans have been problematic in the past) compared to Barack Obama, the first black president of the United States, but there could be something else at play here too. Are voter ID laws affecting minority voters? The targeted suppression of these laws could be to blame for lower black voter turnout.
According to Business Insider, as of Nov. 1, black voter turnout is down 10 percent from where it was in 2012 in Florida, and it's down 6 percent in North Carolina. It's also generally weak across traditionally Democratic strongholds in Ohio, including Cleveland, Columbus, and Toledo.
At the same time, Hispanic voter numbers are surging in both early voting and mail-in ballots, according to Business Insider.
And while the Clinton campaign is trying to get black voters back out to polls with passionate pleas from President and First Lady Obama, there could be more at work here than just lackluster enthusiasm for Clinton.
According to the ACLU, since 2008, state legislatures across the country have attempted to pass laws to make it harder for black people in particular to vote. According to the Brennan Center for Justice, 14 states passed brand new laws that make it harder for black people to vote. These states included Alabama, Arizona, Indiana, Kansas, Mississippi, Nebraska, New Hampshire, Ohio, Rhode Island, South Carolina, Tennessee, Texas, Virginia, and Wisconsin.
One of the hottest battlegrounds for voter ID and suppression laws is in North Carolina, where President Obama rallied a crowd on Wednesday to get out and vote. The NAACP has filed suit in North Carolina saying three different county election boards purged voters from registration lists in violation of the Voter Registration Act, which prohibits removal of registrants 90 days out from an election, according to NBC News.
"The list Republicans tried to purge was two-thirds black and a third Democratic," Obama said to a Chapel Hill crowd about North Carolina's efforts to keep minorities from voting, according to NBC News. "If you don't vote, then you've done the work of those who would suppress your vote without them even having to lift a finger."
In July, a federal court struck down North Carolina's strict voter ID law, which the judges ruled was intended to "target African Americans with almost surgical precision," according to the Washington Post.
It would seem naive to chalk up weaker black voter turnout to enthusiasm alone. Since 2008, not coincidentally since the country elected the first black president, states have done what they could to make it as hard as possible for people of color and young people to vote, from requiring government ID to cast a vote, to cutting the number of early voting days. It shouldn't be a surprise that these laws are having the intended effect.