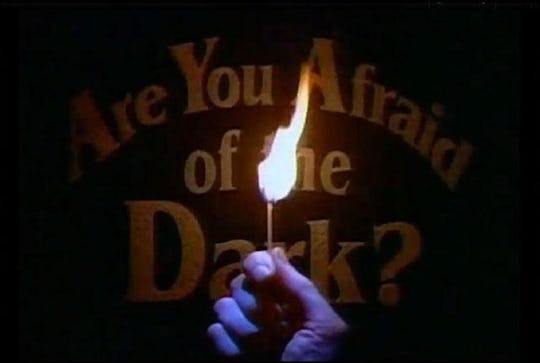 Nickelodeon Studios
An 'Are You Afraid Of The Dark?' Movie Is In The Works & It Already Sounds So Scary
The 2017 remake of It was a big success commercially and critically, with many viewers latching on to the story of a tenacious group of kids taking on a demon clown that preyed on their worst fears. Now it looks like that same mix of humor and horror might result in another reboot of a beloved throwback: an Are You Afraid of the Dark? movie is in the works from the screenwriter of It, Gary Dauberman, for Paramount Pictures.
Are You Afraid of the Dark? was perhaps a little ahead of its time thanks to its horror anthology format, which has seen renewed popularity in the last decade. It began life as a Canadian television show before being picked up by Nickelodeon and working its creepy way into the lives of countless kids. The show was a reliable source of unsettling stories as its young protagonists, who referred to themselves as the Midnight Society, set up shop around a campfire to try and scare the wits out of each other.
It would likely see some changes in format as it made the adjustment from television show to movie, but it seems like Dauberman wants to stay true to what made Are You Afraid of the Dark? great. He told The Hollywood Reporter, "The show is about the shared experience of telling stories — especially scary ones. We're going to celebrate that with this movie and honor the darker, scarier tone of the show, which was really groundbreaking for Nickelodeon at the time. I hope the Midnight Society approves."
In addition to his work on It with Chase Palmer and Cary Fukunaga, Dauberman has penned the screenplays for a few horror flicks and has a few more set to come out in the next couple of years. He has previously worked on Annabelle and Annabelle: Creation, among less well known titles. In addition to Are You Afraid of the Dark? (which seems to be in the earliest of early stages), Dauberman is attached to the It sequel, a TV series called The Terrestrial, a short called Hell Hath No Fury, and The Nun, another film in The Conjuring franchise.
Without much to go on about the Are You Afraid of the Dark? remake, fans of the classic series can only speculate about what might happen in its big screen adaptation. Viewers can probably expect a more cohesive arc than a bunch of disconnected scary stories, but Dauberman's statement did indicate that storytelling would still be a part of things. It's also sure to be darker than the original (though the show could go to some surprisingly dark places), especially since It's R-rating didn't damage its chances in the box office.
The original Are You Afraid of the Dark? was also known for featuring some famous actors before they'd made a name for themselves, and there's always a chance a few of those stars might return for the movie. Ryan Gosling and Neve Campbell appeared on the show back in the day, as did Jay Baruchel, Melissa Joan Heart, Tia and Tamera Mowry, and Will Friedle. It might be fun to see some of those actors back for the film as a nice nod to the series that started it all.
There's definitely a lot of work to be done before Are You Afraid of the Dark? has its opening weekend; so far very little has been announced about the project, and there are still a ton of things to figure out before it starts to take shape. Luckily, the series had so many great stories and creepy moments that could surely be transformed into a full-length movie if done right. Fans should be cautiously optimistic, because the possibilities are endless.
Check out Romper's new video series, Romper's Doula Diaries:
Watch full episodes of Romper's Doula Diaries on Facebook Watch.