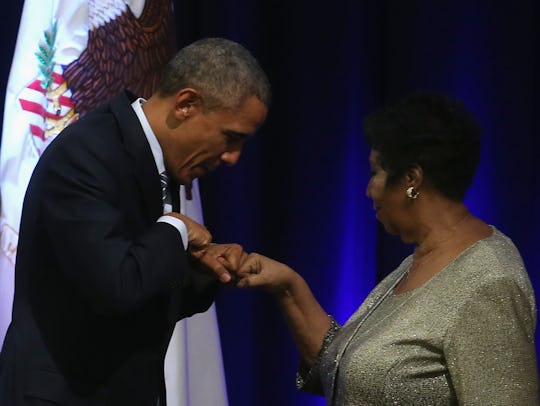 Aretha Franklin Brings President Obama to Tears Because, You Know, POTUS Is A Human Being
On Tuesday, the annual Kennedy Center Honors aired on CBS. While this year's honorees are legends in their own right — singer-songwriter Carole King, filmmaker George Lucas, actress Rita Moreno, conductor Seiji Ozawa, and actress Cicely Tyson — it was Aretha Franklin stole the show. The R&B diva shocked colleague Carole King when she walked onstage, but when she performed "You Make Me Feel Like A Natural Woman," Franklin even brought President Barack Obama to tears. (King wrote the 1968 mega-hit which made Frankin famous.) Obama's reaction is more evidence that he isn't afraid to be human.
In a statement, Kennedy Center Chairman David M. Rubenstein said the ceremony is designed to recognize the "extraordinary and unparalleled talents of individuals whose impact and genius have left an indelible mark on civilization," according to Entertainment Online. And while this year's award ceremony — which actually took place Dec. 8 — did just that, I can't help but turn my attention back to Obama and Franklin. You see, Obama is a man known for his stoic nature and cool, no-drama style. What made the big man break down, aside from Franklin's fabulous performance? (Seriously. That is reason enough. I got chills watching...and I am sitting in my pajamas in my living room!)
According to a few of his longtime colleagues, the commander-in-chief has been getting emotional lately. The New York Times noted that Obama has gotten choked up speaking about various "parts of his legacy that are at risk, like his healthcare law and trade agenda, or when he speaks about slain hostages, civilians killed by drones and racially motivated shootings."
Here are three other times Obama has gotten emotional and shown us he is human, too.
During His Speech At Beau Biden's Funeral
Attending a child's funeral — your own child's funeral — is every parent's nightmare. (My daughter is only two and I already worry about losing her.) And when Vice President Joe Biden lost his own son, Beau Biden, at just 46 years old, everyone felt for him. My heart ached for his, as did the President's. Obama delivered a heartfelt eulogy in honor of Beau, and he choked back tears as he spoke of an honorable young man — one with promise and potential and a selfless heart, according to the New York Times. He wore his heart on his sleeve that day, proving presidents can only take so much.
Malia's "Last" First Day Of School In September
Family seems to make the commander-in-chief all mushy, and for good reason. In September, the Obama got misty-eyed when talking about Malia, his oldest daughter, who will be attending college in just a few months, according to People:
Just yesterday, Malia started her first day of senior year. You know, I was sitting in her room because I was going to see her off her first day of school. She puts her head on my shoulder and she says, 'Daddy, you know, you realize this is probably going to be the last time that you ever send me off for my first day of school.'
As the audience "awwed" the President continued:
And I started – I had to look away. I didn't want to just be such a crybaby.
Oh. My. Goodness. Someone must me cutting onions in my house today. Stahp!
During His Speech On The UCC Shooting
Unfortunately, just a month after speaking to young people in Maycomb, the President had to address a different community college — Umpqua Community College in Oregon — and the nation, but this time in a much more somber manner. An exhausted and obviously emotional Obama made his 15th address after another fatal mass shooting. (Fifteen times, during his Presidency alone.) Ten people were killed during the UCC shooting while nine others were injured.
Sometimes Obama doesn't hide his emotions, and, as president, some are critical of that because they believe our commander-in-chief should always appear strong. But Obama's ability to be human makes him more powerful — he's endearing and respectable, and when tragic events bring him down, it's for good reason.
Image: Mark Wilson, Andrew Caballero-Reynolds/Getty Images News