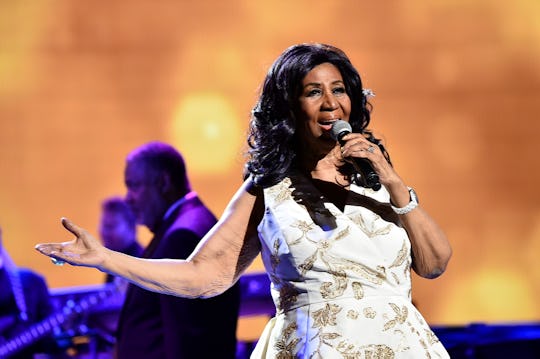 Theo Wargo/Getty Images Entertainment/Getty Images
RIP: Aretha Franklin Has Died After A Long Health Battle
The world has lost another legend. On August 16, news broke that Aretha Franklin has died at the age of 76 after previous struggles with her health. The music icon has touched fans with her powerful voice for more than six decades with classic, timeless hits like "Respect" and "I Say a Little Prayer," and immediately after her passing was reported, scores of fans and celebrities took to social media to share their condolences and express their heartbreak.
Romper's request for comment from Franklin's representatives was not immediately returned.
On Monday, Aug. 13, the Associated Press reported that Franklin was "seriously ill." Additionally, a longtime friend of Franklin told People that she was "very sick" and that the singer had been "ill for a long time." The friend added, "She did not want people to know and she didn't make it public." Later on Monday evening, CNN reported that Franklin was in hospice care at her home.
Though details about Franklin's illness were not immediately released, the singer was diagnosed with pancreatic cancer in 2010 and underwent surgery in December of that year, according to Variety. Since then, however, Franklin had been performing quite frequently, with her last performance held in November 2017, according to Page Six, which fans knew was coming as she had announced her plans for retirement earlier that year.
"I must tell you, I am retiring this year," Franklin said in February 2017 while speaking with Detroit Local 4. "I feel very enriched and satisfied with respect to where my career came from, and where it is now."
Franklin — born in Memphis, Tennessee on March 25, 1942 — was said to be treated at a Detroit hospital before her passing, according to USA Today, and was with her family and friends. According to The Sun, Franklin and her family moved to Detroit when she was 5 years old.
Evrod Cassimy, a Detroit news anchor at WDIV, tweeted on Monday, as People reported, that he had spoken to Franklin. "Just got a chance to speak to Aretha Franklin," he wrote on Twitter. "She is resting and surrounded by close friends and family."
Known as the Queen of Soul, Franklin has given the world a countless number of iconic hits and "decades of timeless music," as rapper Missy Elliott wrote on Twitter on Monday afternoon before news broke that Franklin had passed. As the Chicago Tribune reported, Franklin has been hailed as "one of the greatest singers of all-time," an indisputable title to have with songs like "Natural Woman," "Spanish Harlem," and "Think" to her name, as well as having the "third-most Grammy Awards for any female artist in history," according to ClickOnDetroit.
Obviously, the news of Franklin's passing has rocked music fans all over the world. Many took to social media to mourn the legendary singer.
Actress Jackée Harry also shared a beautiful side-by-side photo of Franklin on Twitter with a touching message: "Prayers going up for the Queen of Soul tonight. Music just wouldn't be same if not for Aretha Franklin."
Franklin is survived by four children, according to The Sun, all of whom are sons: Edward and Clarence Franklin, who were born when she was a teen, and Ted White Jr. and Kecalf Cunningham. In her lifetime, Franklin was married twice; first to her former manager, Ted White, from 1961 to 1969, and then to Glynn Turman from 1978 to 1984, according to ClickOnDetroit. Most recently, Franklin was romantically linked to her "longtime companion Willie Wilkerson," according to The Sun, though they had reportedly called off their plans to marry in 2012.
While the world continues to grapple with the news of losing one of music's finest, Franklin's fearless and booming presence along with her insurmountable talent will undoubtedly live on for ages to come.