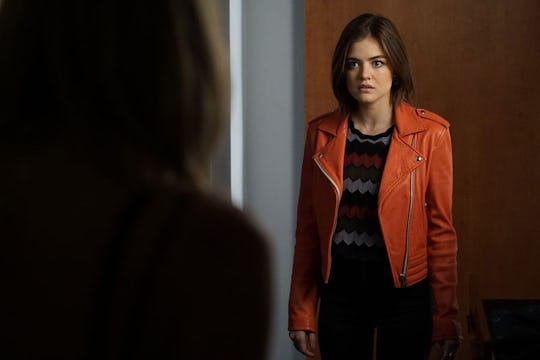 Freeform
Aria Accepts Ezra's Proposal On 'Pretty Little Liars' & The Internet Is Freaking Out
Fans of Pretty Little Liars have seen many relationships sink, from the creepy pairing of Officer Garrett Reynolds and Jenna Marshall to fan favorite Hanna and Caleb (though I'm still rooting to HaLeb to work it out. ) But one 'ship has stayed afloat despite the rocky Rosewood waters — Aria and Ezra. Last week, however, EzRia hit another wave when the former teacher asked Aria to marry him. And, just like Ezra, fans were left wondering if she'd say yes or no. This week everyone got their answer when Aria accepted Ezra's proposal on Pretty Little Liars.
Of course, in true Pretty Little Lairs' fashion, the question wasn't answered right away. And, as always, there were some hints telling viewers to think one way over the other. In the opening scene of tonight's episode, titled "Wanted: Dead or Alive," the camera panned over Aria's left hand and revealed she was without anything sparkly and shiny on her ring finger. In fact, her hands were completely bare, which is off given that Aria is a jewelry aficionado. And to add to the confusion, the rest of the liars knew nothing of the proposal. Was it because Aria didn't want to get their hopes up or because she wanted to give Ezra and answer first?
Eventually, Aria opened up to Hanna about the proposal and admitted that she was scared to say yes because she, "can't promise Ezra forever when I might be behind bars." But Hanna stepped in to tell Aria what she probably knew deep down — that she and Ezra aren't like most couples, and can overcome anything life throws at them. Even if that something is a dead fake doctor.
Still, even Hanna's sage advice wasn't enough to convince Aria that the two could get through the hurdle of a murder charge. So Aria confronted Ezra with a partial proposal acceptance, partial murder confession:
Ezra, I want to marry you. I want to say yes more than anything. But something happened, and it's something that might make you wish you never asked me that question.
Needless to say, Ezra could care less that the love of his life buried the body of a British psychopath. (In fact, there may be a part of him that is turned on by the whole bad girl thing.) So Ezra got down on one knee and, after making a joke about trying this one more time, asked Aria to marry him yet again. The scene that followed was a bit to saccharine for my taste (she kissed him and he asked if that was a yes), but to millions of viewers it was just perfect.
So that's the happy ending for EzRia, right? doubtful. I mean, this is Pretty Little Liars we're talking about. There's still a chance that Ezra's ex girlfriend Nicole is alive, and could comeback throw an anchor down on this ship. And even if she doesn't come back and the two make it to the chapel, there's a strong possibility that A.D. will hijack their special day. I'm not saying the Aria and Ezrawon't get their happily ever after. I just don't expect them to have an easy time getting there.