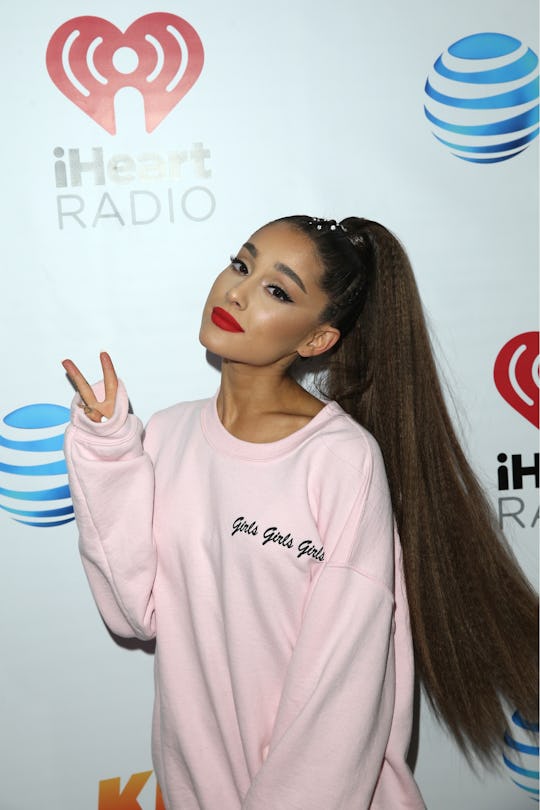 Jesse Grant/Getty Images Entertainment/Getty Images
Ariana Grande Clapped Back at a Fan Who Criticized Her New Song, 'Pete,' & It Was Epic
You may or may not know that singer Ariana Grande is reportedly engaged to comedian and Saturday Night Live star Pete Davidson. It's OK if you didn't know, because at least according to what the public is aware of, they've only been dating a few weeks. It's hard to keep up. Anyway, on Sunday, Grande released a snippet of a song from her new album Sweetener, entitled "Pete," which is probably about her fiancé. This of course got her fans all riled up, and when a fan criticized "Pete," Ariana Grande clapped back at them in the most restrained way, and it was everything.
Here's how it all went down: Grande shared a small bit of the song on Instagram on Sunday, then started answering questions about it on Twitter. One fan asked Grande "WHAT SONG WAS THE SNIPPET MISS GRANDE," and the singer responded and said, "the one from today isss from an interlude ab pete," before following up with a tweet that simply said, "'pete' !"
Naturally, her fans had a lot to say about that. It's pretty obvious the song was named after her beau, and not everyone is super pleased about it. One fan tweeted at Grande, "'pete' girl we know you love him but are you dumb," and the only thing Grande deigned to respond to them with was a short, "nah." Savage.
And in response to that tweet, someone replied, "u really don't give a f*ck do u sksksks" to Grande, and the singer responded that no, she really does not.
Grande responded by tweeting, "forreal. the truth is ☕️ i been the f*ck thru it and life's too short to be cryptic n shit about something as beautiful as this love I'm in. so ǝʇǝԀ it is." Which is actually kind of sweet.
In reality, it does seem like Grande and Davidson's relationship has been a bit of a whirlwind. In late May, Grande confirmed that the two were dating. Then, Grande and Davidson got engaged after just a few weeks of dating, according to PEOPLE. They've also reportedly recently moved in together, according to Elle, though neither of them have confirmed that rumor. Keep in mind this has all happened over the span of a several weeks in the eyes of the public and Grande's fans, which definitely seems a little fast.
But the fact is, Grande and Davidson can do whatever they want, and it's not really anyone else's business what steps they decide to take with their relationship and when. And no matter how fans might feel about it, it's definitely a little rude to jump in on Grande's Twitter and tell her that she's dumb. Frankly, Grande was much more restrained in her response than a lot of people probably would have been in the same situation, including me.
And regardless of how fans may feel about Davidson or the relationship, Grande made a good point in her follow-up about life being short. Just a quick reminder that Grande has been through some tough stuff in the pretty recent past — like when a suicide bombing killed 22 people at her 2017 concert in Manchester, United Kingdom. The singer reportedly dealt with post-traumatic stress disorder after that tragedy, and shared recently that not only does she still cry about that, but she's also powered through anxiety for a long time in general, according to The Guardian.
If Grande has found happiness with Davidson, and their relationship seems to be healthy, it's really not up to fans to tell her how to handle it. And coming onto her Twitter and telling her she's dumb for possibly naming a song after her fiancé is definitely not cool. Kudos to Grande for handling it like a champ.