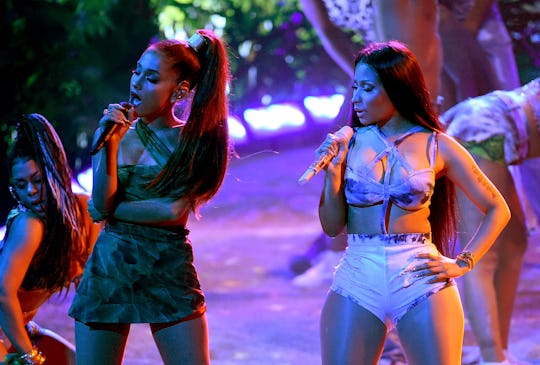 Kevin Winter/Getty Images Entertainment/Getty Images
Ariana Grande & Nicki Minaj's AMAs Performance Brought Some Heat To The Winter Show
Ariana Grande and Nicki Minaj joined forces to perform at the American Music Awards of Sunday, Nov. 20. And, it's safe to say that Ariana Grande and Nicky Minaj's AMA performance was hot in more ways than one.
The duo performed their hit duet "Side To Side," which they first debuted at the MTV Video Music Awards in August. But unlike their MTV performance,which had a workout vibe, their AMAs had a topical theme with palm trees, sand, girls in bikini tops, and men without shirts. (Thank you for that last one ladies.)
The key to a killer duet is singer chemistry, and these two definitely have it. Grande said herself that the two stars have a great working relationship. "I love Nicki," Grande gushed to E! on the AMAs red carpet. "I'm very excited to perform with her tonight. She is a really good friend to me; we have fun. And we make a lot of good songs together. Girl power!"
But Grande has more to be excited for than her killer performance. According to the American Music Awards, Grande is nominated for the Artist of the Year Award. And since the AMA victors are determined by fan votes, she had a special message for those who voted for her.
"I saw my fans voting their a--es off online and I appreciate them so much," she told E! just before the show kicked off. "I love them from the bottom of my heart no matter what. I appreciate all of that, but at the same time I don't need an award to let me know how much they love me."
Nicki has been making waves of her own lately, with her hit single "Black Beatles" burning up the charts, thanks in no small part to the viral #MannequinChallenge, where people take videos of themselves standing completely still, like mannequins, while the song plays, according to the New York Times.
Luckily, there was no #MannequinChallenge at play on Sunday night. The two singers, plus their entourage of backup dancers, utilized the stage with some sick dance moves.
They even got audience members moving.
And, of course, the fans at home were more than thrilled with the dynamic duo's performance.
I think it's safe to say that whenever Grande and Minaj want to take the stage together, the world will welcome them with open arms.
Additional reporting by Leah Rocketto.