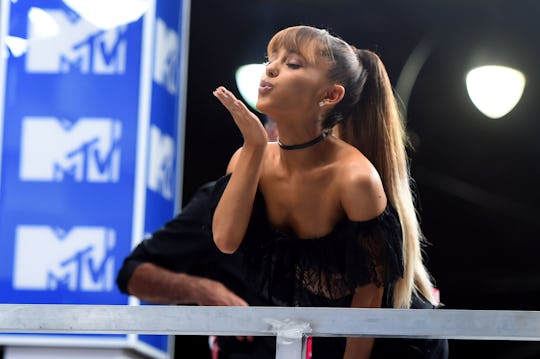 Larry Busacca/Getty Images Entertainment/Getty Images
Ariana Grande & Nicki Minaj's VMAs Performance Was The Perfect Workout
The last time we saw an Ariana Grande and Nicki Minaj VMAs performance was back in 2014 when they slayed the stage with "Bang Bang," along with Jessie J. This year Grande and Minaj returned to the stage with another show-stopping performance, this time of their latest collaboration, "Side to Side," from Grande's third album. This is the third collaboration these two have done together, and it seems every time this duo gets together they make a chart-topping hit. "Side to Side" is no different. After this performance and the release of the music video on Sunday night, it's likely this song will be playing everywhere from now on.
When Grande and Minaj hit the stage, the crowd went crazy, as expected. The new single definitely has a reggae feel to it, and it's no surprise that the crowd was on its feet during the performance. As always, Grande's vocals were out of this world, especially for someone who was singing while riding a bike. Clearly she goes to Soul Cycle. Then when Minaj hit the stage, she was surrounded by a group of hot workout guys, making an already amazing performance even better.
In what looked like the greatest workout class of all time, Minaj and Grande then ended their performance with an epic face off that had fans wondering if Minaj was asking Grande, "What's good?" with her eyes. Based on how playful the two were it's clear it was all friendly and just a fun addition to their performance. Not only do these two make amazing music together but they obviously have fun together too, making it even more fun for the crowd and viewers at home.
The most interesting part of their performance was probably the moment when two workout guys "bowed down" before Grande and Minaj and pantomimed oral sex. Maybe this is a special treatment you can get at whatever gym Grande and Minaj go to.
If the live performance of "Side by Side" was that good, there's no telling what the music video will be like. Based on the teasers Grande released on Twitter on early Sunday the music video will have the same gym theme that had us wishing we worked out with Grande and Minaj. Make sure to keep an eye out for the music video on Sunday night — you know it'll be just as amazing as it was live.