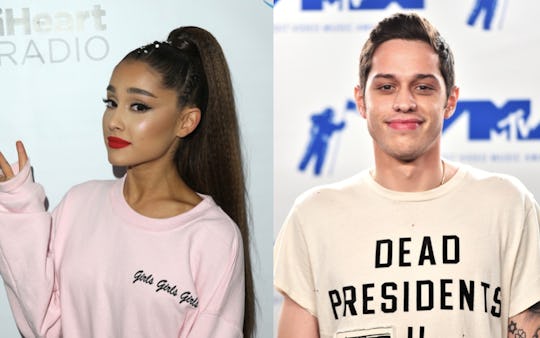 Jesse Grant/Getty Images Entertainment/Getty Images Alberto E. Rodriguez/Getty Images Entertainment/Getty Images
Wait A Sec... Ariana Grande & Pete Davidson Are Reportedly Engaged Now?!
After just weeks of dating and loads of flirty comments on social media, Ariana Grande and Pete Davidson are reportedly engaged, according to Us Weekly. The publication reported on Monday that the happy couple started announcing their wedding plans at mutual friend Robert Pattinson's birthday party in L.A. over the weekend. Romper's requests for comment from both Grande and Davidson's representatives regarding the reports were not immediately returned.
"They are a perfect fit. They are not rushing to get married," a source reportedly told Us Weekly, adding that "their friends are really excited and supportive" of their relationship.
On Friday, Grande and Davidson were seen being extra flirty on social media, as Davidson shared a photo of his girlfriend, and after Grande responded to it, Davidson revealed the image was actually his "permanent phone background," which, honestly, sounds as close to being engaged as you can possibly get without a ring, TBH.
On May 21, Us Weekly also reported that Grande and Davidson were officially an item, as an insider reportedly shared that, while it was casual, Grande was seen meeting and hanging out with Davidson's mom backstage at Saturday Night Live. Their relationship came just a few weeks after she and Mac Miller, whom she dated for two years, had split, according to People. Earlier that month, E! News reported that it was due to "hectic schedules," and that they still love each other as friends.
Furthering speculation about rumors of their reported engagement, on Monday, Grande tweeted a cryptic "I love you" post, which included a long string of monkey-hands-over-eyes emoji, and "sm," meaning, "so much." She concluded by saying "ok bye." Fans immediately began responding, assuming that this is confirmation of the news. "If it's true then congratulations baby I am more than happy for you because you have finally found someone you can love forever oh my gosh I'm so happy for you," read one response. "THIS IS SO EXCITING I'M SO HAPPY," another chimed in.
Though neither Grande nor Davidson have publicly commented on whether or not the engagement rumors are actually true, another "source" that alleged to be close to the couple told People that though the relationship seems to have gone fast, they're just two people who "found love quickly," and that they both decided not to keep their future nuptials a secret. "It's a recent engagement. They're just two people who found love quickly and make each other happy all the time," the source reportedly told People. "They both started talking about it this past weekend. It's nothing they've been hiding."
Though the news of their relationship getting much more serious may come as a surprise for some fans, Vanity Fair argued that the couple had been leaving a "trail of breadcrumbs" for a while. First, as Vanity Fair pointed out, they started by commenting at each other on Instagram, which, given their status, is less of a move played to flirt and more to show fans that they are, at least, interested in each other. (With millions of followers between them, they have to be aware that their interactions are showing up in newsfeeds.)
Their hinting then escalated further into tagging (Grande actually tagged a photo of Davidson's arm on Memorial Day, leaving fans to speculate who the mystery person was) and finally, actually uploading images of each other with not-so-cryptic quotes, like one of Grande's most recent 'grams said explicitly: "I am but a Pete Davidson update acc stay tuned for more (Pete follows / comments sumtimes)."
It seems very clear that both Grande and Davidson know the kind of attention that their relationship would pull, but what's more interesting is that it seems as though they were sort of hinting that more news would be on the horizon, and lo and behold, here we are.