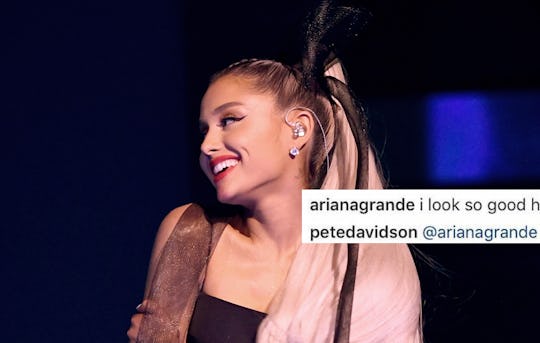 Kevin Winter/Getty Images Entertainment/Getty Images
Ariana Grande & Pete Davidson Talk About Having Kids On Instagram & Um, You Need To See It
The public only just learned that they're dating, but now, Ariana Grande and Pete Davidson are talking kids on Instagram, and it's just the latest big step in their whirlwind romance. Yes, that's Ariana Grande, the incredibly talented impressionist and pop singer who frequently adopts the persona of a sexy baby/cat, and Pete Davidson, the Saturday Night Live cast member best known for his rambling Weekend Update appearances, in which he muses about smoking pot and being a millennial. Who could've seen that one coming?
It's unclear when the couple first got together, but they've known each other at least casually since March 2016, when Grande hosted SNL. The two were both otherwise partnered at that time, however; she with rapper Mac Miller, and he with Cazzie David, daughter of Seinfeld creator (and previous SNL guest) Larry David. But the pair went public with their relationship just a week ago, and it looks like things are getting pretty serious. Now, technically, the talk of breeding was all in jest, but when you consider all the other big steps they've been taking, it's not hard to imagine that there's a grain of truth to their jokes.
Editor's Note: The Instagram post has since been deleted.
It started on Tuesday, when Davidson posted a photo of himself with actor Brian Tyree Henry who, plays Al, AKA "Paper Boi" on Atlanta. "I'm having his kids," Davidson captioned the post. Grande then commented, "I look so good here," according to E! Online, to which Davidson replied with "five drooling face emojis." According to Emojipedia, the absolute authority in emoji, this symbol "May be used as a display of desire in a person, object or concept," which I guess means that Davidson would very much like to have kids with Grande, or that he's very much joking. Who can say?
If you blinked and missed the start of 2018's weirdest coupling, don't feel bad. Here's what we know: according to Cosmopolitan UK, Grande released a statement confirming her breakup with Miller on May 10, though it's unclear just when the breakup occurred. Posting a picture of her ex on Instagram, the singer elaborated on their status in the caption:
Hi! This is one of my best friends in the whole world and favorite people on the planet Malcolm McCormick. I respect and adore him endlessly and am grateful to have him in my life in any form, at all times regardless of how our relationship changes or what the universe holds for each of us! I can't wait to know and support you forever and I'm so proud of you!!
Two days later, Grande was spotted at the SNL after party hanging out with Davidson and his mother, according to Us Weekly. It's one thing to meet the parents, but actively partying with them? That's not something that typically occurs early in a relationship.
Davidson confirmed in a radio interview on May 16 that he and David were no longer together (also no date of termination given), and days later, the couple was getting cozy backstage at the Billboard Music Awards, according to People, where a source characterized the two as "very lovey-dovey."
On May 30, the couple finally went public when Davidson shared a photo of himself and Grande wearing Hogwarts robes (he's a Gryffindor and she's a Slytherin, if you were curious). Davidson can be seen wearing a Gryffindor sweater while Grande dons a Slytherin one. "The chamber of secrets has been opened..." he captioned the photo. Grande commented with a terrible pun I refuse to print.
But the biggest step of all came just this past Saturday, when Los Angeles tattoo artist London Reese posted an Instagram story showing two new tattoos he'd done for Davidson: Grande's initals on his thumb, and a silhouette of her Dangerous Woman bunny mask on his neck. Reese wrote that Davidson "loves" Grande three times in the captions, according to Buzzfeed, although the permanent post left that off. And what's more, fans are pretty sure that the couple already has matching cloud tattoos together, although there aren't any clear photos yet. Don't be surprised if these two are married by the weekend.