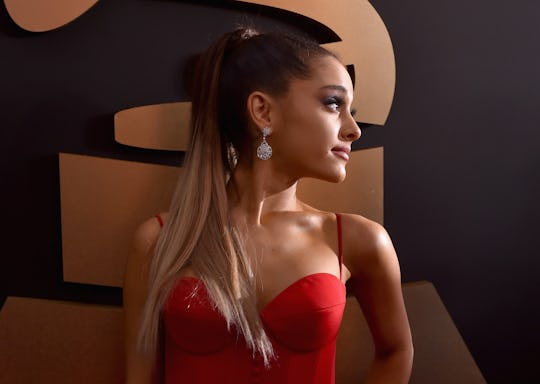 Larry Busacca/Getty Images Entertainment/Getty Images
Ariana Grande Responds To London Bridge Attack
Less than two weeks after the Manchester Arena bombings at an Ariana Grande concert left 22 people dead, England has suffered another horrific attack that left at least seven people dead. Grande responded to the London attacks that occurred on Saturday night at London Bridge and Borough Market, sharing a message of unity and strength on social media. The 23-year-old singer is set to perform at the One Love Manchester benefit concert on Sunday, where she will be joined by Miley Cyrus, Justin Bieber, Katy Perry and more in an effort to raise money for those affected by both the Manchester bombing and the London attack.
Grande released a statement about the devastating events that took place in London on Saturday night via her manager. Scooter Braun tweeted out Grande's message on Sunday morning, reassuring everybody that the One Love Manchester event would carry on. "We feel a sense of responsibility to honor those lost, injured, and affected," the statement read. "We plan to honor them with courage, bravery, and defiance in the face of fear. Today's One Love Manchester benefit concert will not only continue, but will do so with greater purpose. We must not be afraid, and in tribute to all those affected here and around the world, we will bring our voices together and sing loudly."
The statement also addressed some concerns people were having about safety at the event in the wake of another fatal attack. Following the events of Saturday night, some even speculated that the One Love Manchester benefit would be cancelled. Grande's statement was quick to set that story straight. "I am pleased to say we have the full support of the Greater Manchester police and the government and are assured the safety of all those attending is the highest priority," as well as assuring that "all artists involved have been unwavering in their support this morning and are determined to carry on with the show."
Grande took to her own personal Twitter account in the immediate aftermath of the London attacks to show her support. She tweeted out a simple message reading "Praying for London." She then shared some more information about One Love Manchester, including that Uber will match the price of all fares to and from the event and donate the money to British Red Cross.
Grande's message following these heinous attacks is one of unwavering love and support for anybody affected by these senseless tragedies. She's using her position in the public eye to raise awareness and to give back to anybody harmed at her show in Manchester, as well as the London attacks. Grande is attempting to show the world that we should not give up hope in the face of these difficult times. As Grande said in her statement: Fear will never win.