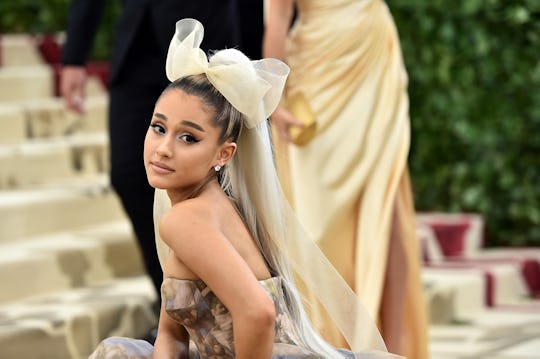 Jason Kempin/Getty Images Entertainment/Getty Images
Ariana Grande Responds To The Pete Davidson Dating Rumors With The Most Perfect Feminist Tweet
In case you missed the news, Ariana Grande *might* be dating Saturday Night Live's Pete Davidson. The rumor surfaced on Tuesday, just a few weeks after Grande confirmed her breakup from rapper Mac Miller. And on Wednesday, Ariana Grande responded to the Pete Davidson dating rumors with a *must-read* feminist tweet. In short, Grande isn't here for the nonsense that a woman owes a man — or an unhealthy relationship — anything.
Unlike some celebrities out there, Grande has no problem addressing rumors about herself firsthand. Case in point: When Grande and Miller split in early May, she took to her Instagram stories to set the record about the breakup straight. "Hi! This is one of my best friends in the whole world and favorite people on the planet Malcolm McCormick," Grande captioned a photo of herself and Miller, according to POPSUGAR. "I respect and adore him endlessly and am grateful to have him in my life in any form, at all times regardless of how our relationship changes or what the universe holds for each of us! Unconditional love is not selfish. It is wanting the best for that person even if at the moment, it's not you. I can't wait to know and support you forever and I'm so proud of you!!"
Following Grande's mature and positive message, reports surfaced that she's now in a relationship with Davidson. Apparently, Davidson attended the Billboard Music Awards on Sunday to support Grande's performance. "After Ariana's performance, they were backstage and he had his arm around her," an insider said about the burgeoning romance, according to HuffPost. "They seemed very lovey-dovey. He was hanging out with her and her friends with his arm around her. She seemed quite smitten."
Although it's not clear if Grande and Davidson are dating, what is clear is some fans aren't happy about the rumored relationship. In fact, some people even brought up Miller's arrest on Thursday for allegedly drinking and driving while under the influence to illustrate their points. Miller did not immediately respond to Romper's request for comment.
"Mac Miller totalling his G wagon and getting a DUI after Ariana Grande dumped him for another dude after he poured his heart out on a ten song album to her called the divine feminine is just the most heartbreaking thing happening in Hollywood," one commenter wrote, according to Twitter.
"Yo @ArianaGrande you fucking suck Mac miller wrote a WHOLE A*S album for you to break up with him and wear your stupid f*cking cat ears," another person said.
Another person chimed in: "If it's true that Ariana Grande and Pete Davidson are dating I will probably lose my head in anger. She is my idol but nobody should treat like this [sic] someone who loved and loves you like Mac does."
The good news is Grande isn't tolerating these misguided and offensive opinions. Grande wrote back to one fan, according to People:
How absurd that you minimize female self-respect and self-worth by saying someone should stay in a toxic relationship because he wrote an album about them, which btw isn't the case (just Cinderella is ab me). I am not a babysitter or a mother and no woman should feel that they need to be. I have cared for him and tried to support his sobriety & prayed for his balance for years (and always will of course) but shaming / blaming women for a man's inability to keep his s— together is a very major problem. Let's please stop doing that. of course i didn't share about how hard or scary it was while it was happening but it was. i will continue to pray from the bottom of my heart that he figures it all out and that any other woman in this position does as well.
Way to shut the ignorance down, Grande. For starters, Grande flawlessly sums up the dangerous idea that women are somehow indebted to men. If a man pays for a woman's meal, for instance, he might later use that gesture as evidence that she should come back to his apartment. There's always a reason for women to "owe" it to men, no matter how absurd the logic is. In this case, Grande was indebted to Miller because he supposedly wrote an album about her. Even if the album rumor was true, it doesn't mean Grande should feel guilty about leaving an unhealthy relationship. An album — or any gesture — does not take precedence over someone's personal safety and happiness.
Additionally, Grande made an excellent point when she argued that women are too often blamed for men's problems. At the end of the day, Miller is the one who is responsible for himself, and Grande has no part in his issues. It's important to note that addiction (if that's what Miller is suffering from) can be the result of a variety of circumstances, including genetic factors. To claim that Miller's arrest is because of Grande is wildly inaccurate.
As for how people are responding to Grande's message, the comments are overwhelming positive. In fact, one of Grande's initial haters issued a long apology following her clapback.
Elijah Flint wrote, according to his tweet:
Hey, I'm really sorry this is something you took the time to read and that upset you enough to make such a thoughtful reply. First and foremost, I know nothing about your relationship and the heartache you both feel. I in no way think that you are the cause of Mac's short comings we all have our demons to keep at bay and I truly worry about his well being just as a fan so I am sorry to minimize any of that or make it seem like a break up is a justifiable cause to go deep end. Finally, I had no idea this would go viral and get treated like a story on TMZ it truly doesn't go as deep as you're implying and I truly hope you and Mac get back to living your best lives as soon as possible. I'm very sorry I hurt you and I'm sorry you feel my tweet stigmatizes women for ending a toxic relationship that wasn't my intention at all. I think every woman is equal to a man and has the same exact right to pursue their happiness to the fullest despite the backlash they might receive, including you.
Although Grande didn't have to respond to all the nonsense, the apology is a great example of why it's beneficial for celebrities to speak out from time to time. Hopefully, Grande's message will hit home with people who are either struggling to leave a toxic relationship or with those who are pressuring a person to stay in one.