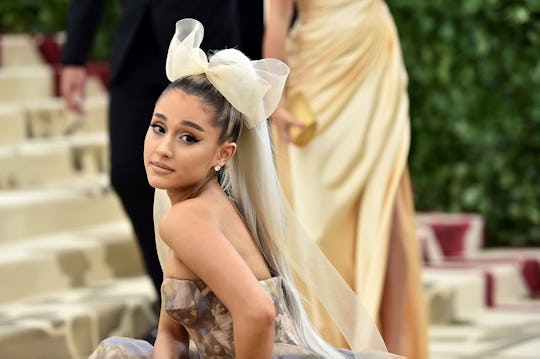 Jason Kempin/Getty Images Entertainment/Getty Images
Ariana Grande Has A Sassy Response For People Who Keep Spreading Pregnancy Rumors
Ariana Grande is a bit of a gossip magnet these days. From rumors in late July that Grande broke up with her fiancé, Pete Davidson, all the way to the claim that she demands to be carried around by her security guards (weird, I know), she can't seem to catch a break these days. But arguably the most frustrating rumor about Grande at the moment concerns her supposed pregnancy. Although the baby talk was debunked in June, Ariana Grande had to address the pregnancy rumors once again because fans can't seem to let this one die. Luckily, Grande had the shadiest response ready to go when the topic of conversation came up during an installment of James Corden's Carpool Karaoke.
When Grande and Davidson got engaged in June, many people assumed a pregnancy was at the center of their lightning fast relationship. The two did get engaged after a month of dating, after all — no one can deny the courtship was fast. But not every quick engagement has to do with pregnancy (isn't this assumption a bit outdated, BTW?), and Grande said as much in tweets responding to the gossip. It all started when a fan on Twitter remarked to Grande, "Suddenly you're pregnant with 34 kids?"
In a hilarious twist, Grande replied: "Duh !!!! haven't i already had like eight."
Grande also went on to mock the speculation, writing on Twitter that she was "externally screaming" over the drama. And when a fan stated that Grande is pregnant, she replied: "oh absolutely but ......... innnnnnnaaaaawhile."
Well, it's seems like Grande's patience for all of the baby talk has worn off because her response to the most recent pregnancy speculation was full of sass. Essentially, gossip about Grande's uterus took off again when she released her music video for "God Is A Woman" (at one point the singer looks down at her stomach as it expands and explodes into flowers), and she's not impressed.
Grande put her snark to use when Corden asked her, according to The Hollywood Reporter: "What's the strangest or weirdest thing you've ever read about yourself, where you're like, that just isn't true."
"There's tons of pregnancy stuff. People really want me to be pregnant," Grande replied around the 7:06 minute mark of the episode. "They want it. They want it so bad. Every other week there's a pregnancy thing."
Although Grande's response is subtle, it's not difficult to understand why it's pretty shady. Take Grande's remark that fans want her to be pregnant "so bad," for instance. The comment hits on the public's ongoing fascination with pregnant celebrities, and fans' need to create rumors out of thin air. Case in point: A famous person can't wear a piece of loose clothing out in public these days unless they want to generate gossip about a supposed pregnancy. It's absolutely wild.
Of course, I highly doubt Grande's loyal supporters — aka Arianators — meant to be malicious or insensitive about the pregnancy rumors. It's completely normal to be interested in celebrities and their families, as long as it doesn't cross any personal boundaries. That being said, it's probably a good idea for Grande's fans to lay off of the speculation for a bit. There are so many other interesting things to discuss about Grande these days, after all, like her fourth album, "Sweetener." The album will hit stores on Friday, and her base couldn't be more excited about the release.
Not to mention, there's Grande's upcoming wedding to look forward to. Although Grande and Davidson haven't publicly discussed when they'd like to get married, I predict it will be sooner than later. Want proof? Look no further than Davidson's admission about knowing Grande was the one for him from the jump. "The day I met her, I was like, 'Hey, I'll marry you tomorrow,'" Davidson admitted, according to Page Six.
So, here's to Grande enjoying the rest of her summer free of pregnancy rumors. Although it's clear Grande is a pro at shutting gossip down, I bet she'd rather not have to deal with any of the drama.