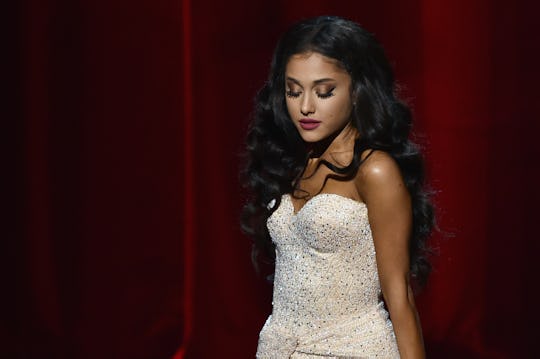 Kevin Winter/Getty Images Entertainment/Getty Images
Ariana Grande Sings 'Not A Feminist Song' On 'SNL' & Shows It's Difficult To Write A Feminist Anthem
Ariana Grande and the other women of Saturday Night Live supposedly attempted to write and sing a feminist anthem when Grande hosted on Mar 12. What they found, however, was that it is difficult to write a completley inclusive song. Instead, they gave up, and decided to sing "Not A Feminist Song" in its place.
Grande and SNL women – including Aidy Bryant, Leslie Jones, Kate McKinnon, and Sasheer Zamata – sang about beginning with high hopes to empower women, then about how their hopes quickly derailed. According to them, female songwriters want to write feminist anthems, but in the world of intersectional, third world feminism, all the material cannot fit in one song.
Instead of trying to write the perfect feminist song, the women then declare that what they're singing is staunchly "Not A Feminist Song," and therefore can be problematic. They do not have to worry about saying something wrong because they declared that they do not categorize their lyrics as "feminist."
The pre-filmed skit went on to portray what a stereotypical "feminist" video would look like: the majority of the people in the video are women – of different ethnicities and body types, which is atypical of the music industry and actually makes this pop parody better than some actual pop videos. The skit also featured pictures of women like Ruth Bader Ginsburg and Maya Angelou.
At one point, an old woman's hands are shown on screen. The lyrics then clarified that one cannot tell a woman is old merely because of her hands, and that the singers know you should not reduce a woman to her hands.
While the original intent of the writers in the skit sort of fell apart, the song turned out catchy and the video turned out fun. As a whole, the skit itself was a biting parody of how pop artists might approach songwriting. On one hand, they want to show that they are invested in issues like feminism and want to portray that through their art. On the other, it is impossible to please everyone, so it's more than likely that someone will not like the song or its message.
Some people have mastered the art of the #FeministSong (Beyoncé comes to mind), but for those who have not, SNL's take might make them feel better. Ariana Grande and the ladies of SNL know their pain, and while this song is a parody it works so well because it rings true. Hopefully this inspires more #FeministSongs that stand by being such.