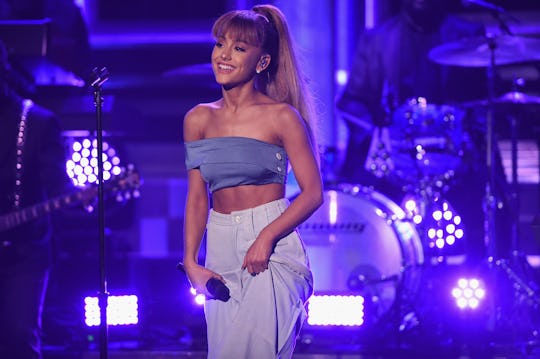 Theo Wargo/Getty Images Entertainment/Getty Images
Ariana Grande Visited Hospitalized Manchester Victims
The strength of others in the time of despair is awe inspiring. Weeks after the terrorist attack outside of an Ariana Grande concert in Manchester, England occurred, the victims of the attack and Grande herself are continuing to stay strong and inspire others. On Friday, Ariana Grande visited the Manchester victims in the hospital and the photos are so incredibly touching.
The Manchester bombing outside of an Ariana Grande concert less than two weeks ago took the lives of so many innocent people and injured dozens more, according to The Guardian, many of whom are still in the hospital. Grande visited the victims of the attack in their hospital rooms at the Royal Manchester Hospital, and luckily cameras were there to capture it all. This is the first time that Grande has returned to England since the attack occurred less than two weeks ago, and she was greeted with open arms.
The photos, shared to social media, are so heartwarming. In the photos, the victims are all smiles to be with Grande and look so completely happy. One could only imagine the pain that these children are going through — to see them with Grande shows that there is hope on the horizon and that good things can rise out of the darkness.
Before returning to Manchester, Grande penned a powerful message to fans, asking for them to stay strong. "I am sorry for the pain and the fear that you must be feeling and for the trauma that, you, too must be experiencing," Grande wrote. "We will never be able to understand why events like this take place because it is not in our nature, which is why we shouldn't recoil. We will not quit or operate in fear. We won't let this divide us. We won't let hate win."
By showing up to the hospital and spending time with victims of the attack, Ariana is publicly showing that she won't let hate win and won't let hate bring her fans down. Together they'll stand united in happiness and love.
Grande is back in Manchester, not only to greet the victims from the attack, but to honor the lives of those lost as well. On Sunday, June 4, Grande will be hosting a concert titled One Love Manchester with a line up of incredibly talented performers to raise money for the victims of the attack and their families. The concert will be broadcast on Disney networks so everyone can show their support for the victims and lives lost during the horrific attack.
This visit with the victims only shows pure strength in times of absolute despair. To see a smile on the face of those still in the hospital because of Grande is absolutely uplifting.