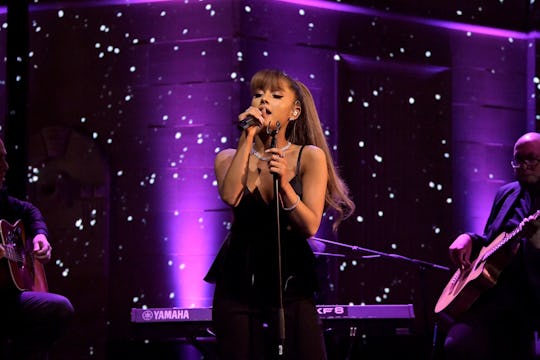 Charley Gallay/Getty Images Entertainment/Getty Images
Ariana Grande Will Play A Manchester Benefit Concert
On Friday afternoon, Ariana Grande released a statement on the Manchester attack that was equal parts heartbreaking and inspiring. In an unexpected move, the Dangerous Woman star also announced that she would be returning to the United Kingdom sooner than expected: Ariana Grande will play a Manchester benefit concert in honor of the victims of the attack and their families soon. She urged fans to continue supporting one another and to unite against hate.
"I have been thinking of my fans, and of you all, non stop over the past week," Grande wrote in an open letter to her fans on Friday. She continued:
The way you have handled all of this has been more inspiring and made me more proud than you'll ever know. The compassion, kindness, love, strength and oneness that you've shown one another this past week is the exact opposite of the heinous intentions it must take to pull off something as evil as what happened Monday. YOU are the opposite.
Grande extended her "hand and heart" to her fans in the letter, and she encouraged them not to let fear guide their actions. She also shared her plans for an upcoming benefit concert.
"I don't want to go the rest of the year without being able to see and hold and uplift my fans, the same way they continue to uplift me," she wrote. "Our response to this violence must be to come closer together, to help each other, to love more, to sing louder and to live more kindly and generously than we did before."
Grande shared with fans that she would be returning to the "incredibly brave city of Manchester" soon, although she did not specify exactly when. She said friends and musicians had reached out in order to be a part of the benefit, and that she would share details as they were finalized.
A total of 22 people were killed in the attack in Manchester on Monday night, including seven children, and another 116 people were injured in the blast. Before releasing her open letter to fans on Friday, Grande had simply tweeted that she was "broken" and "so so sorry."
On Friday, Grande also shared a link to a crowdfunding page for the victims of the Manchester attack. The page is close to raising its goal of £2 million (close to $2.5 million), but every donation helps the victims of a senseless tragedy. To contribute, you can donate on the crowdfunding page and share with family and friends.