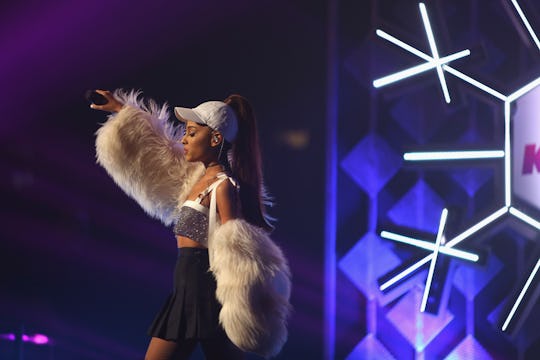 Tasos Katopodis/Getty Images Entertainment/Getty Images
Ariana Grande's Mom Reportedly Helped Fans Following Bombing
The terrorist attack in Manchester, England Monday night that took 22 innocent lives has been all over the news this week — and rightly so. The explosion was reportedly carried out by a "soldier" tied to the Islamic State, with IS claiming responsibility for the largest, most fatal terror attack to take place in Britain since 2005 (though that claim is dubious and has been questioned by analysts since). One of the most heartbreaking facts about the attack is that it specifically targeted young people who were at the Manchester Arena to see Ariana Grande in concert. And in the midst of the chaos, it was Ariana Grande's mom herself who reportedly helped fans following the suicide bombing, getting as many fans as she could backstage to safety.
As soon as Grande left the stage Monday night, a suicide bomber detonated a blast in the nearby foyer and fans quickly attempted to flee the venue. But amid the rush, fans who were near the stage — as Grande's mother, Joan, was — found themselves far from most exit points. Luckily, she acted quickly, and reportedly ushered young fans backstage instead. According to TMZ, "Joan told a group of kids -- possibly as many as 10 -- seated around her to come backstage."
When an event like that happens, confusion and fear typically rule people's emotions, especially in crowded areas with no clear way out in sight. Luckily, Joan's maternal instincts kicked in at exactly the right time.
(Romper has reached out to Grande's reps regarding the report and is awaiting a response.)
While the Islamic State may have claimed the attack was carried out by "a soldier of the Khilafah," it's important to remember that officials have yet to verify that claim, although the suicide bomber has been identified. As Daniel Coats, Director of National Intelligence, noted, "[IS likes to] claim responsibility for virtually every attack."
No matter what, though, the bombing in Manchester on Monday night was horrific. Innocent lives were taken, for absolutely no reason. According to The Washington Post, "The attack occurred near one of the exits of the arena, in a public space connected to a bustling train station." Because of that location, many fans were likely even more terrified, searching for ways out in a panic. And while it's of course speculation, Joan's reported actions at that time could very well have saved more lives.
As any parent knows, the thought of losing your child at an event that was supposed to be nothing but fun is just about the worst thing imaginable. But with heroic actions, like those of Grande's mother, at least some of those concerns can be assuaged.