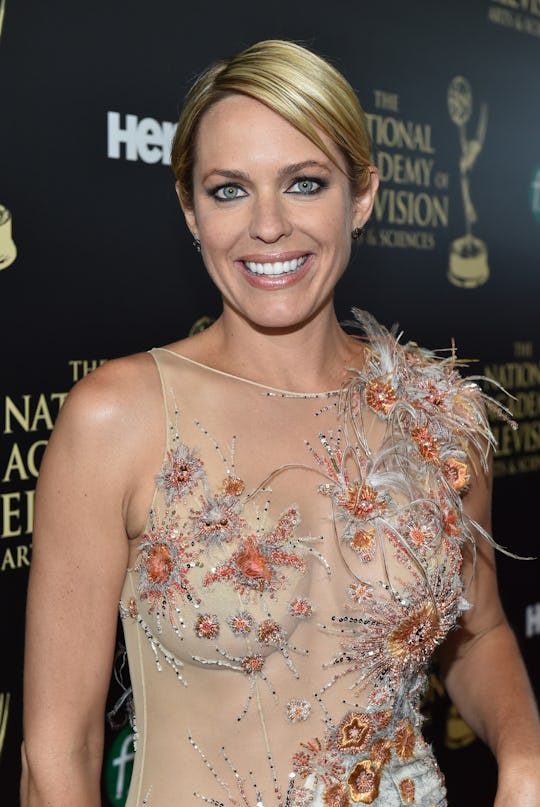 Alberto E. Rodriguez/Getty Images Entertainment/Getty Images
Arianne Zucker Responds To The Trump & Billy Bush Video With A Perfect Tweet
Republican presidential nominee Donald Trump's campaign is still reeling from the video released last week revealing his shocking comments about women to former Access Hollywood host Billy Bush. The footage forced both Trump and Bush into a media firestorm, but there's a third person in the video who refuses to become a casualty. When actor Arianne Zucker responded to the Trump and Billy Bush video, she maked it clear that she's not letting Trump's words, or the attention to them, compromise her sense of self. Trump's campaign has not responded to Romper's request for comment, but he issued an apology for the comments.
The video released Friday showed Trump and Bush pulling up to the Days of Our Lives set in 2005; The Washington Post reported that Trump had a cameo on the show. According to IMDB, Zucker was in place to film a segment with them — she plays Nicole Walker on Days of Our Lives and started her time as a cast member in 1998. On the released video, Bush seemed to be referring to Walker (who wore a purple dress) when he said, "Your girl's hot as sh*t, in the purple," The Washington Post reported. After saying "whoa," Trump spoke about her:
I've got to use some Tic Tacs, just in case I start kissing her. You know I'm automatically attracted to beautiful — I just start kissing them. It's like a magnet. Just kiss. I don't even wait. And when you're a star, they let you do it. You can do anything.
Bush said, "Whatever you want," according to The Washington Post. Trump said, "Grab them by the p*ssy. You can do anything." Trump initially released a statement on his website responding to the footage. Under pressure from the media for a more thorough response, he followed up with a video in which he said, "I said it, I was wrong, and I apologize."
Zucker stayed quiet immediately following the release of the footage. She spoke out for the first time on Sunday via Twitter, Refinery29 reported. Zucker's statement about the Trump and Bush video read:
My name is Arianne (R-E-on) ZUCKER (Zooker) and I am a strong, independent, hard working mother, business woman and partner to a great man. I have grown to learn that the words of others cannot effect [sic] the value of my self worth or define the content of my character. How we treat one another, whether behind closed doors, locker rooms or face to face, should be done with kindness, dignity and respect. Unfortunately, there are too many people in power who abuse their position and disregard these simple principles and are rewarded for it. In understanding the magnitude of this situation, I choose to stand tall with self respect and use my voice to enrich, inspire and elevate the best of who we are as people.
Many of Zucker's online supporters celebrated her response to the footage, congratulating her grace in managing a challenging situation. Zucker may be doing what she can to exit the media frenzy, but Bush and Trump are still caught in the controversy. NBC suspended Bush from his current role as a host of Today, according to The New York Times. Though NBC News initially said there would be no disciplinary action taken, the announced suspension puts Bush off the air indefinitely.
Trump is still in the race for the White House, but he was forced to respond to the video during the second presidential debate Sunday. Moderator Anderson Cooper asked Trump if he understood that he "bragged" about sexually assaulting women, TIME reported. Trump began his answer by saying:
No, I didn't say that at all. I don't think you understood what was — this was locker room talk. I'm not proud of it. I apologize to my family. I apologize to the American people. Certainly I'm not proud of it. But this is locker room talk.
It's unclear how fallout from the footage will ultimately influence Bush's career and Trump's campaign, but it appears as though Zucker escaped unscathed with an elegant response.