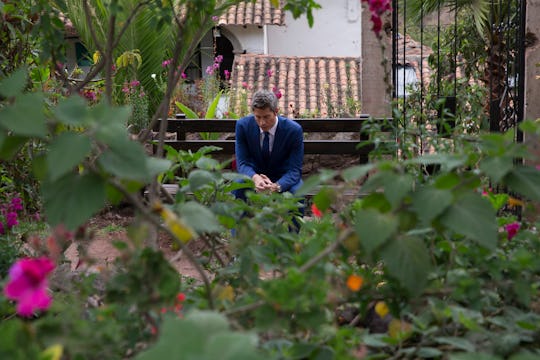 Paul Hebert/ABC
Arie Defended His Actions On 'After The Final Rose' & His Reasoning Is Flawed
On Monday night, Bachelor Nation witnessed one of the most controversial endings in Bachelor history: Arie proposed to Becca, then regretted it and broke up with her for his runner-up, Lauren B. Oh, and he did it all with cameras rolling. So then on After the Final Rose, Arie defended his actions on The Bachelor and his reasoning is pretty flawed.
Bachelor Nation saw Arie's actions during the finale, and he got the chance to say his piece on After the Final Rose. Chris Harrison brought him out to speak with Becca for the first time since the break-up. Chris opened the floor to Becca to ask him whatever she wanted. Arie said he knew he questioned his relationship with Becca since he reached out to Lauren.
According to Arie, he split with Becca "the way that he did" (with a camera crew) because he wanted viewers to know that it was on him. Becca then asked him why he hid the fact that he talked to Lauren while they were together. Arie said he kept that from Becca because wanted to be "certain that he wanted to pursue that." It was hard for him to know that, Arie said, because Becca "was working and they were apart." This is when the audience started booing because, come on, that's no reason to hide the fact that you spoke with another woman to your fiancée, and the runner-up at that. Arie insisted that he needed "time to sort out my feelings."
Becca then asked why Arie wasn't fully honest with her when he knew it wasn't going to work. Arie said from when they got back from Peru, he felt an "emptiness" and was "mourning" his relationship with Lauren. He said there's nothing normal about The Bachelor experience and he was confining in her, both about his talking to Lauren and the fact that he was unsure about them. Basically, it was all a jumbled mess of Arie trying to explain why he reached out to Lauren while he was together with Becca. Becca felt like he was disrespectful to her and was closing the door on their relationship instead of trying to open it.
Becca called out Arie because he took away first experiences from her, like her first proposal. Chris Harrison then asked Arie if he had any regrets and... Arie regrets proposing to Becca. He said he did due to "pressure of being the Bachelor, knowing there's a timeline and needing to make a decision that day." Becca shot back because Arie always has a choice and didn't need to propose. Arie says that's "on him and he has no excuse." Becca said she wishes Arie would've thought through it more... and he even said he was confident in them.
Arie said he was "one foot in" and he was "conflicted." Becca accepted that apology but it seems that some members of Bachelor Nation aren't. Arie blamed how The Bachelor works and that he felt "pressure," but not once did he just admit that he put this pressure on himself and he was to blame. In my opinion, it would've been better if he just proposed to no one and gotten back together with Lauren at a later point after reflecting. That way, Becca's heart wouldn't have been broken in front of millions of people.
In addition to having a lackluster response to why he talked to Lauren while still with Becca and why he proposed, he had a disappointing response as to why he opted to film the breakup. Arie said he did so so "the blame was all on him," but I don't think that's true. If that was the case, he could've just said that to people. Camera crews were not needed, and were honestly exploitative. Whatever. Thankfully, this train-wreck of a season is over soon.
Check out Romper's new video series, Romper's Doula Diaries:
Watch full episodes of Romper's Doula Diaries on Facebook Watch.