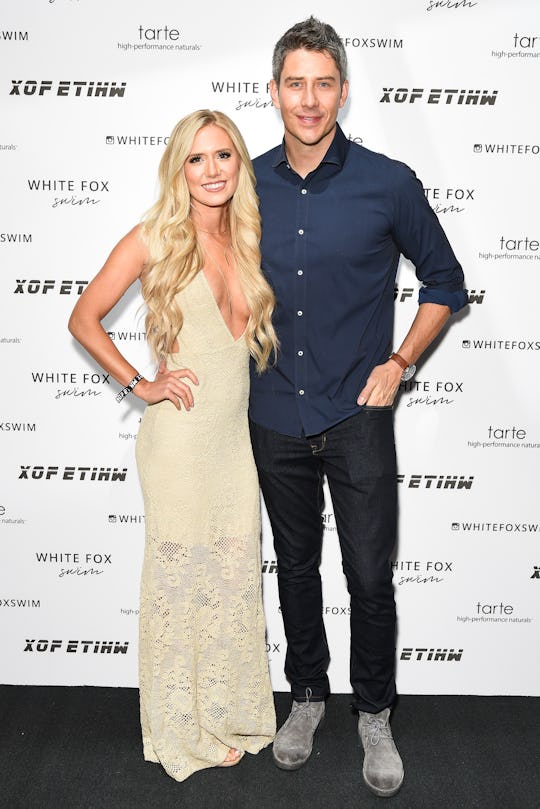 Presley Ann/Getty Images Entertainment/Getty Images
Arie & Lauren From 'The Bachelor' Are Expecting Their First Child Together
A little over a year ago, millions of people tuned in to see if Arie Luyendyk Jr. would find love on Season 20 of The Bachelor — and he did. After getting engaged to Lauren Burnham, the couple had one very exciting announcement to make about their relationship less than one year later. On Wednesday, Arie and Lauren from The Bachelor announced that they're expecting their first child together and Bachelor Nation is so excited for them.
In the early hours of Wednesday morning, the couple announced their news with a photo of them kissing and holding the pictures from Burnham's ultrasound on Us Weekly's Instagram account. And of course, both Luyendyk and Burnham are super excited about this pregnancy; their smiles in the photo alone prove that they're so happy to be starting a family together.
After getting engaged in March during a taping of After The Final Rose after their season of The Bachelor was over, the couple announced a few months later that they would be getting married in Hawaii on Jan. 12, 2019, according to People. But Burnham told Us Weekly she isn't upset about this literal and figurative bump in their plans. "The first thing we thought was 'Oh my gosh. Our wedding,'" Burnham said. "Obviously we're not married yet, but this is the way it happened — and this is probably the way it was meant to happen!"
Fans are just excited about this news, taking to Instagram on Wednesday to share their happiness for the expectant parents.
"Congratulations!," one fan wrote. "All the best to both you and baby Luyendyk."
"What a blessing!" another added.
"OMG," the majority of commenters stated, perfectly summing up the thoughts of members of Bachelor Nation.
In a post on her own Instagram account, Burnham revealed that her due date is in June, which means that she could still be in her first trimester of pregnancy — but didn't mention if she knew the sex of her baby. However, Burnham did tell Us Weekly that this pregnancy hasn't been the easiest for her:
October was miserable. I had really bad morning sickness and barely left the house. But over the last week, I've started feeling a lot better, so it's nice to have my energy back. When I wasn't feeling that great, I was trying to go on a lot of walks. But now I do cycling a few times a week!
Although pregnancy might not be agreeing with Burnham just yet, it hasn't taken away from the sheer joy that the couple has had since getting pregnant. Burnham told Us Weekly that she had a feeling she was pregnant, so she took one test. But after the test was positive, Luyendyk told Us Weekly that they wanted to be 100 percent sure — so Burnham took six more tests. Luyendyk said:
Lauren took all of them and they were all positive. We weren't trying, but we are so excited. It's going to be a whole new chapter in our lives.
After all that the couple has been through this past year, the upcoming chapters in their lives will be a breeze. Fans watched during the Bachelor Season 20 finale when Luyendyk got engaged to Becca Kufrin at the end of the show. But months later, he announced that he had "changed his mind" and was in love with Burnham, according to Vanity Fair. Although Luyendyk stood by his decision, and Burnham accepted the proposal in March, this change of heart didn't sit well with some fans of Bachelor Nation, according to The Hollywood Reporter.
But, after Kufrin found love on The Bachelorette, and the couple got settled into life in Arizona, Luyendyk and Burnham emerged from their "controversial engagement" stronger than ever. Their pregnancy announcement proves that they're ready for their life to begin together — and fans of The Bachelor will be cheering them on every step of the way.