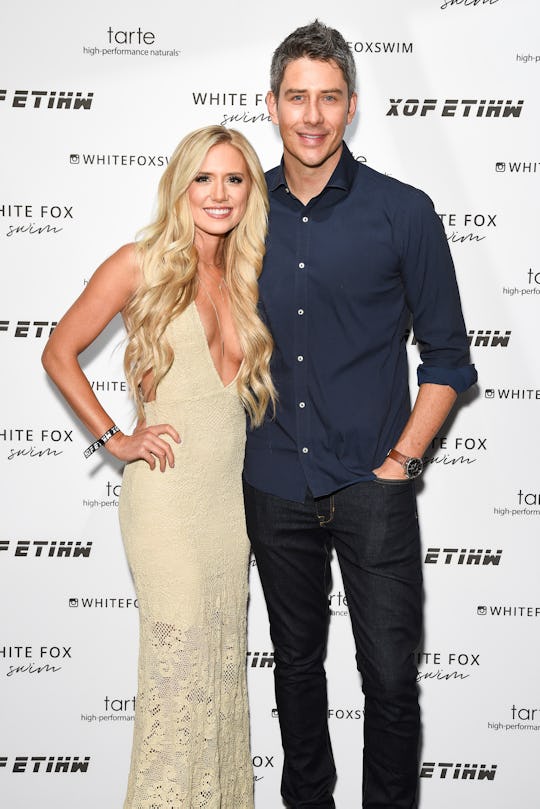 Presley Ann/Getty Images Entertainment/Getty Images
Arie Luyendyk Jr. & Lauren Burnham Just Shared Their Gorgeous Wedding Invitation
Things not have worked out for runner-up Lauren Burnham on The Bachelor the way she thought they would, but she sure as hell seems happy with how everything's going now. After Arie Luyendyk Jr. broke his engagement with the season's winner, Becca Kufrin, he reconciled with Burnham, the runner-up, and he then proposed to her during the After the Final Rose special. And it looks like they're going ahead with the wedding, because Arie Luyendyk Jr. and Lauren Burnham's wedding invitations have been printed.
On Wednesday, Luyendyk Instagrammed a photo of their wedding invitation, E! News reported. "Sending these out this week! January can't come soon enough ❤️," he captioned the shot. The invitation features a photo, taken by Jennifer Perkins, of Luyendyk and Burnham lovingly gazing at each other in a meadow in front of a sunset. (Seriously. You can't make this stuff up.) The invitation, which was designed by Minted, reads, "Lauren & Arie request your company at their wedding — Saturday, January 12, 2019 — Hauku Mill, Maui, HI." Does this mean everyone's invited? Because I would love an excuse to go to Hawaii...
A corner of the light brown envelope can be seen in the photo, and it looks like the words "Delivery for" are drawn in calligraphy, with names and adresses printed below. Additionally, the envelope features a personalized stamp, which reads "A + L" and has a flower drawing.
The couple is holding their destination wedding at Haiku Mill, a Maui, Hawaii venue where, "Old World Europe meets natural Hawaiian splendor," and where "lush vegetation, vine-draped ruins, and immaculately kept and vibrant gardens come together to create a stunning microcosm of Maui's tropical splendor," according to its website. Wowza. Haiku Mill sounds like a truly stunning place to get married, and the venue seems to specialize in weddings, explaining:
Haiku Mill offers a spectacular backdrop to celebrate your special day. Stepping on to our property is like stepping into a secret garden – a botanical paradise that is private, intimate and breathtakingly beautiful ... It is an unforgettable fairy tale setting that will leave your guests in awe.
Haiku Mill can only accommodate up to 100 guests at a time, so Luyendyk and Burnham's nuptials will probably be limited to family, close friends, and perhaps Chris Harrison. (Guess that means I'm not invited...)
This will be a destination wedding for Luyendyk and Burnham, who currently live in Arizona together. This past April, the couple purchased a brand new four-bedroom house in Phoenix, Arizona, where Luyendyk works as a real estate broker, Us Weekly reported. Burnham told the magazine at the time:
Arizona has been a really easy adjustment for me as I've moved around my whole life ... I've been making friends and trying to get settled in but we really haven't been here all that long yet. It has been fun exploring the area and Arie is a really good tour guide, so that helps.
With the big day just four months away, it looks like wedding planning is in full swing for the couple. Last month, Burnham had her bridal shower. "Feeling so grateful for my amazing friends and family. You ladies really know how to make a girl feel special," Burnham captioned a carousel of Instagram photos from the event. "Thank you for everything you do and for the best bridal shower I ever could've dreamt of. Can't wait till Janularie!! 🌺." Based on the pictures, the shower seems to have been Hawaiian themed. The guests wore leis, doughnuts were decorated to look like pineapples, and several of the guests even showed up in Hawaiian prints.
Here's hoping the couple shares a few wedding photos come Jan. 12, because the event is sure to be incredible.