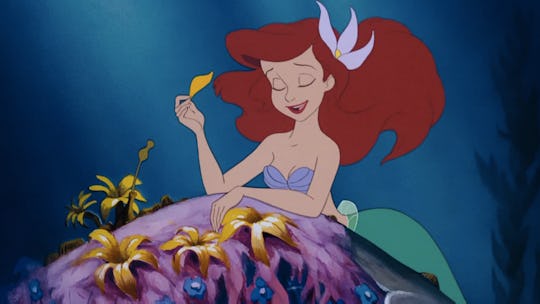 Ariel Will Be Blond In 'The Little Mermaid' Live-Action Remake, & That Could Be A Good Thing
Actress Chloë Grace Moretz, 18, has been cast in the starring role of the live-action film version Hans Christian Andersen's 1836 novel, The Little Mermaid. But it sounds like Ariel won't have red hair in the live-action Little Mermaid. In the 1990 Disney animated classic, which Moretz told Entertainment Tonight was "like childhood," Ariel makes a splash with her red locks, intended to signify her fiery spirit. But 25 years later, the live-action remake is going in a different hair direction. In the same interview with Entertainment Tonight, Moretz said she will not be dyeing her hair red. Instead, she stressed how the film's message is aiming to be more feminist than its animated precursor. Moretz went on to say that the filmmakers are "making it progressive for women in this day and age."
So, that means Ariel can't be a redhead? While some fans clearly think it's a shame Moretz won't be going red for the role — there are very few women with red hair on screen — the change in aesthetic might signal a protagonist who is markedly different than Disney's Ariel.
While Moretz didn't give away any spoilers, only to stress that the live-action film will be a "revisionist tale," I can't help but wonder if the new little mermaid's ambitions to be earthbound may not only revolve around the love of a prince she's never met. Heck, maybe she wants to go to MIT? Become the Queen of Denmark? Start a revolution for merfolk? After all, Moretz performed all her own kick-ass stunts in the 2010 film Hit-Girl. The possibilities are endless; I guess we'll have to wait and see.
But lots of fans took to Twitter to say that they aren't pleased with the idea of a non-redhead Ariel.
Some Pointed Out That Ariel's Red Hair Made The Little Mermaid An Icon
The original fairy tale actually did not specify Ariel's hair color. That was a Disney decision.
Other Fans Are Taking The News Very Personally
I hear you! There are a ton of blond heroines on screen. A little more diversity — of all kinds — would be awesome. K, thanks.
Redheads Are Particularly Offended
This goes to show the reach Disney and animated fairy tales have on little girls coming-of-age, and how they see themselves (or don't see themselves) represented on screen. Seeing a redheaded heroine made innumerable little girls feel like their hair was beautiful rather than weird or deserving of mockery. It makes sense that Ariel going blond feels like a betrayal.
Cheer up, ladies! Let's wait and see what the live-action remake has to offer. The original Hans Christian Andersen tale is reportedly a redemptive story of female bravery and self-sacrifice in the name of love. I, for one, can't wait to see what kind of depth Moretz (who slayed it in the Carrie remake) brings to The Little Mermaid 2.0.
Image: Walt Disney Pictures; Giphy (1)