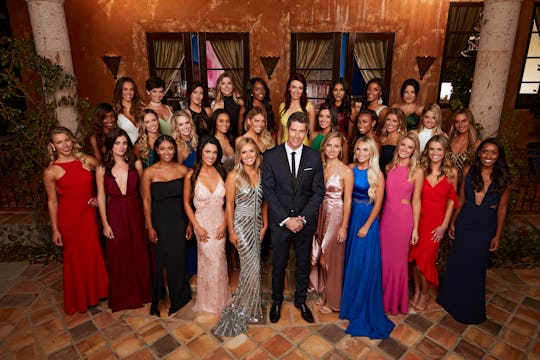 Craig Sjodin/ABC
Get To Know Arie's 'Bachelor' Contestants Better On Instagram
It's just a matter of time before Season 22 of The Bachelor kicks off, with Arie Luyendyk Jr. distributing roses to the small crowd of women vying for his affection. The season premieres on the first of January 2018, but there's no reason to wait for the episode to air if you want to get introduced to the upcoming cast members. Checking out Arie's Bachelor contestants on Instagram can give you a hint at their personalities and how they'll do on the show. You'll be spending weeks watching these women, and it could be fun to start figuring out who your early favorite might be — or guessing who might end up with Arie when the whole thing concludes.
There will be 29 girls in total when Arie's season begins, but unfortunately not all of them are available on social media. There are always a few contestants who delete or privatize their accounts after joining the show, probably aware of how many strangers are going to start flooding their mentions. They may activate their Instagram accounts again as it gets closer to their debut on the show, but until that happens there are still plenty of contestants with public accounts. Here are all 24 of them.
Chelsea Roy
Hailing from Portland, Maine, Chelsea works in real estate and has a three-year-old son.
Lauren Schleyer
Lauren is a social media manager from Dallas, Texas. She also seems to have a knack for running into celebrities in her home town.
Maquel Cooper
Maquel is a photographer from Utah, and she has two Instagram accounts you can peruse: her personal one, and one dedicated to her photography.
Caroline Lunny
The former Miss Massachusetts now works as a realtor in Ft. Lauderdale, Florida.
Becca Kufrin
A publicist from Minneapolis, Minnesota, Rebecca is also incredibly skilled at multitasking.
Jenna Cooper
Jenna is a social media manager who describes her main interests on Instagram as health, beauty, fitness, and motivation.
Valerie Biles
Editor's Note: The Instagram post has since been deleted.
Valerie is a Nashville native and server.
Marikh Mathias
Marikh is a restaurant owner from Salt Lake City who lists two of her favorite movies as Beetlejuice and Practical Magic, so you know she's good people.
Lauren Burnham
A technology salesperson from Dallas, Lauren describes herself as "open-minded, loyal and fun to be around" in her Bachelor bio.
Kendall Long
Kendall is the creative director of something (very mysterious, Kendall) and lives in Santa Clarita, CA. Also, she's really into collecting taxidermy.
Bibiana Julian
Editor's Note: The Instagram post has since been deleted.
Bibiana is an executive assistant from Miami Beach, Florida, as well as a former Miami Dolphins cheerleader who secretly hates football.
Jenny Delaney
Jenny is a graphic designer who identifies with fictional character Lola Bunny because "she's good at sports and keeps up with the boys," according to her bio. Her Instagram is mostly comprised of her original artwork. It has a sports theme, unsurprisingly.
Bri Amaranthus
Bri is a sports reporter from Portland, Oregon who has already managed to snag herself an Emmy. Good job, Bri! (She's the one in the middle.)
Jacqueline Trumbull
Editor's Note: The Instagram post has since been deleted.
Jacqueline is a research coordinator from New York who stressed how important her career was to her in her bio. She seems to be on her way to a Ph.D. in chemical psychology.
Bekah Martinez
Bekah is an L.A.-based nanny who dreams of teaching art or owning her own art studio.
Brittany Taylor
Editor's Note: The Instagram post has since been deleted.
Brittany is a tech recruiter from Austin who loves corgis, the most intrinsically humorous of dogs. She has one named Bizkit.
Lauren Jarreau
Editor's Note: The Instagram post has since been deleted.
Lauren is from New Roads, Louisiana and just earned her master's degree.
Amber Wilkerson
A Denver-based business owner, Amber expressed pride in her bio for being able to make her business a success "in a short amount of time with no money for marketing or advertising."
Annaliese Puccini
Hailing from San Mateo, California, Annaliese is an event designer. When asked what she couldn't live without, she answered: avocados, cheese, ice cream, love, and laughter. A solid list.
Ali Harrington
Editor's Note: The Instagram post has since been deleted.
Ali is a personal stylist from Lawton, Oklahoma. According to her, she's funny, kind, down to earth, and adventurous.
Ashley Luebke
Editor's Note: The Instagram post has since been deleted.
Ashley is a real estate agent in West Palm Beach, Florida.
Jessica Carroll
Jessica is a TV host from Canada who seems to have since relocated to Los Angeles. In her bio, she says that "kissing is [her] favorite food." Presented without comment.
Nysha Norris
Editor's Note: The Instagram post has since been deleted.
Nysha is an orthopedic nurse with pretty classic taste in movies; her favorites include The Sandlot, The Sound of Music, and Nightmare on Elm Street.
Olivia Goethals
A marketing associate from Chicago, Illinois, Olivia lists her favorite book as Fifty Shades of Grey. Again: presented without comment.
You still have to wait to meet some of the women from The Bachelor Season 22, but that just leaves a little mystery for the premiere episode.
Check out Romper's new video series, Romper's Doula Diaries:
Watch full episodes of Romper's Doula Diaries on Facebook Watch.