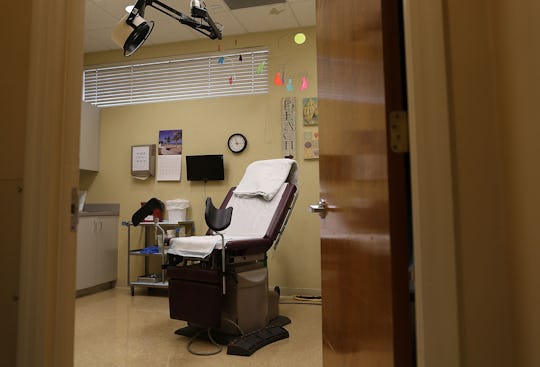 Joe Raedle/Getty Images News/Getty Images
Arizona Introduces A "Delivered Alive" Bill
Conservative politicians have always maintained a certain level of cruelty with the anti-abortion bills they push. All of these laws — those that've passed and those that've failed to move — are fundamentally anti-women and place the most burden on people living in poverty. But a new low was reached in the ongoing war on reproductive rights when lawmakers in Arizona introduced the "Delivered Alive" bill, which will only punish the women it affects.
Under Senate Bill 1367, dubbed the "Delivered Alive Infant Clarification Act", doctors would be forced to "save the life" of an aborted fetus delivered at or beyond 20 weeks of gestation if a heartbeat is detected. The bill would also require abortion clinics to be outfitted with "a minimum level of neonatal equipment" and have at least one neonatal professional present during later-term abortions. The mandated equipment upgrades proposed in the legislation have led pro-choice activists and abortion providers to call S.B. 1367 "a new form of targeted regulation of abortion providers, or TRAP, laws," according to Rewire News.
What's worse: S.B. 1367 would also apply to premature births. That means doctors who are delivering preterm infants would be required to resuscitate the baby, even if it has zero chance of survival. That means people who've lost or are late-term aborting wanted pregnancies will be forced to relive the trauma of their baby's death because of conservative lawmakers decided to play God with anti-science legislation. Appropriately, abortion rights activists have called S.B. 1367 the "fetus torture bill," according to the Phoenix New Times.
On Wednesday, the Arizona House Judiciary and Public Safety Committee passed S.B. 1367 along party lines after the state Senate approved the legislation in a 18-12 vote last month. But before the committee came to its vote, mothers who opposed S.B. 1367 stood on the floor to bravely tell their stories of loss.
One mother, Maureen Williams, testified how S.B. 1367 would have "changed the final minutes she had with her daughter, Zoe," Arizona Republic reported. She recalled how she learned her daughter had life-threatening health issues at 23 weeks' gestation and could not survive outside of the womb. According to the daily paper, Williams told the Arizona lawmakers that she "wanted Zoe," but she made "the choice of taking on her physical pain and having this abortion. ... I would have wanted her on my chest to let her pass away in peace," she added. "We need to leave this decision to the parents and the doctors."
Another mother, AnMarie Stone, relived her story of her premature delivery. When Stone had her mid-pregnancy ultrasound, her son Trevor was "a healthy baby boy." He was growing well, doctors told her. But a few weeks later, Stone was rushed to the emergency room with complications. Stone and her husband, along with a group of doctors, discussed their options and came to "the most loving decision" to "let Trevor go." Trevor weight just under a pound when he was born at 22 weeks gestation. According to Arizona Republic, Stone told the committee members,
He had a heartbeat. He was breathing. He was a child outside his mother. The nurses gently wrapped him in a blanket and gave him to us. My husband and I held him until he was gone. Legislation forcing the doctors to resuscitate him would have been not only unethical, but cruel.
S.B. 1367 is now off to the state House for a full vote. If the bill passes the chambers, it will head to Gov. Doug Ducey's desk to be signed into law. Ducey is a known opponent of abortion rights, so pro-choice activists have little reason to believe he will veto the bill.
Unsurprisingly, S.B. 1367 is backed by conservative lobbying group Center for Arizona Policy, an affiliate of the anti-choice, anti-LGBTQ Family Research Council. According to the Phoenix New Times, Cathi Herrod, who heads CAP, told Arizona Republic in February that the bill applies to all births, including preterm infants, because premature delivery "is a termination. That is an abortion." For Herrod to call preterm labor "a termination" is insensitive and callous — never mind the fact that it shows she fails to grasp how pregnancy actually works.
Herrod also told the paper that S.B. 1367 is necessary because "the baby might live" and "neither doctors nor parents can play God." That's rich, considering that's exactly what S.B. 1367 seeks to do.