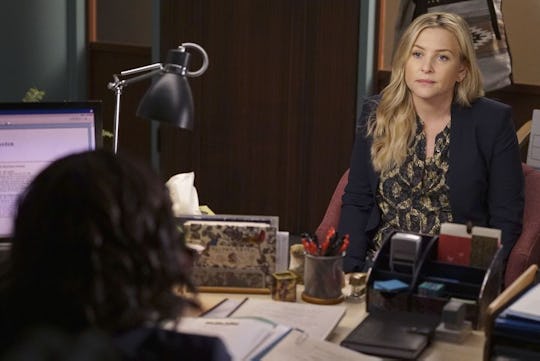 Eric McCandless/ABC
Arizona Wins Custody On 'Grey's Anatomy,' But The Battle Was Heartbreaking
It was a rather brutal custody battle on Grey's Anatomy, but the gavel has been slammed and the ruling has been made. Episodes back, Callie announced that she and Penny would be moving to New York (for a grant that Penny earned), and planned to bring Sofia (Callie and Arizona's daughter) with them. That, understandably, didn't fly with Arizona. Because of it, the two launched into a very ugly, very work-involved, custody battle. On Thursday, Arizona won custody on Grey's Anatomy, and it was a huge moment in the once very popular ship.
The custody battle was intense, as one would expect. The entire episode featured Callie and Arizona (well, they're legal representation) taking the biggest digs at the other while on the stand. For example, Callie faced judgement that she was taking Sofia away from the tight-knit "community" that she had grown accustom to in Seattle. Arizona faced even more attacks. She was essentially called negligent for not being able to parent because of her job. She was also criticized for enjoying a trivia night — TRIVIA NIGHT. It certainly seemed like all of this was going to cause Callie to win custody, but it was actually the opposite.
It wasn't explicit, but in a scene that showed Callie sobbing asking how "this happened," and Arizona with Sofia, going home, we can presume that Callie lost custody of Sofia, while Arizona won. It was, like most Grey's Anatomy scenes, absolutely heartbreaking. The two have really hit rock bottom in their relationship, even if it looked like there was a chance that the two would be able to work it out before the verdict was read.
I'm not sure if this is the end of this battle, though. While it would be easy for Penny and Callie to get on a plane and leave, it's very, very obvious that Callie has too much for her in Seattle. She loves Sofia more than anything, and leaving her behind doesn't seem in character.
Hopefully things turn north before they go even more south. It's an absolutely heartbreaking story line for two characters I like together too much. I just want them to make it work.